Welcome to Davidson
This is the accessibility version designed specifically for users needing extra accessibility features. Feel free to check out the original experience here.
Welcome
Chamber's Lawn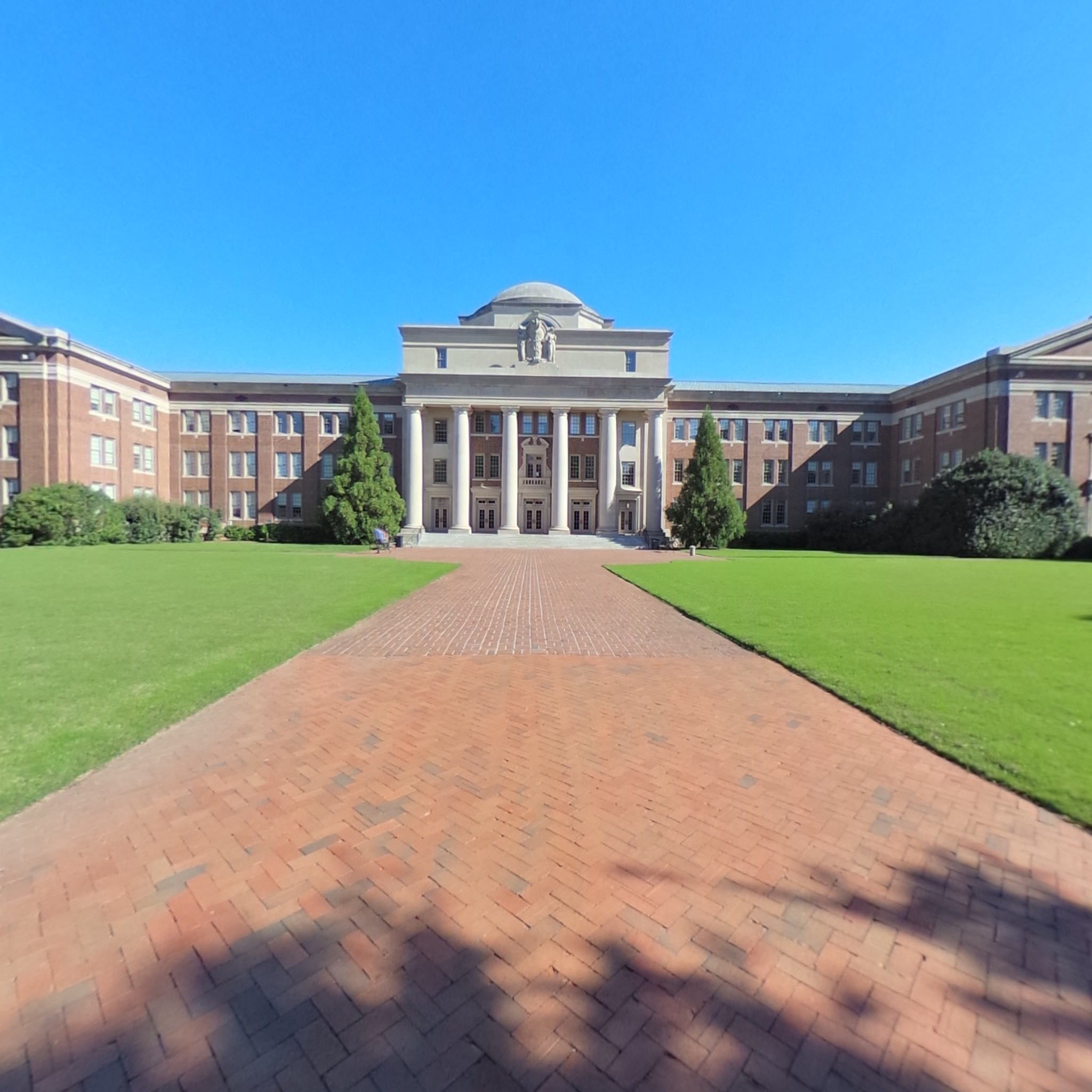 Welcome to Davidson! Davidson was founded in 1837 by the Presbyterian Church (USA). We currently have an enrollment of just under 2,000 undergraduate students, with an average class size of 15 and a student to professor ratio of 10:1.
The building straight ahead of you is Chambers, the academic hub of campus. Let's go inside to learn more about it!
Academics
Chamber's Lobby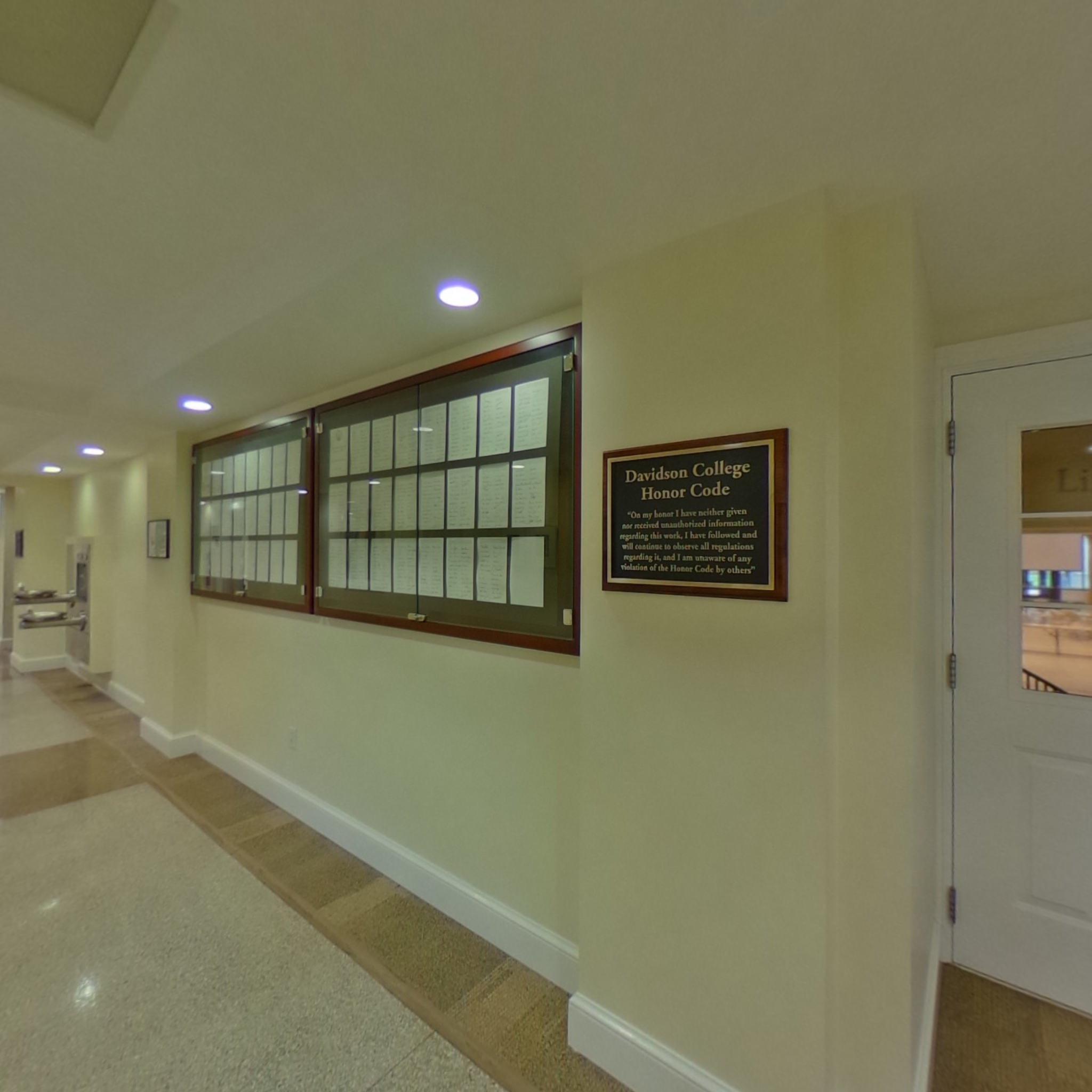 We are now in the main lobby of Chambers, where the Honor Code signatures of every student currently taking classes are displayed. The Honor Code truly guides student life here at Davidson. It states "I will not cheat, steal, or lie about college business, nor tolerate others who do."
The Honor System at Davidson has been student run for over a century. Students are elected by their peers to serve as Honor Council Representatives. Student Defense Advisors, Student Solicitors, and the Chair and Vice-Chair are chosen every Spring semester. The Honor Code provides many benefits on campus. Academically, students enjoy un-proctored and self-scheduled final exams, take-home tests, and can trust that their classmates are working honestly. Socially, students are able to leave their belongings in the library while they grab lunch in the Union, and it's not uncommon to see money– ranging from a $1 bill to $100– tacked up on a bulletin board for weeks. No one wants to take it if it's not theirs!
The Honor Code is about privilege, not punishment. Students think of the system in terms of everything it allows them to do, rather than focusing on what they cannot do. The Code creates a community of trust, and respect, which fosters academic engagement and learning.
Standard Classroom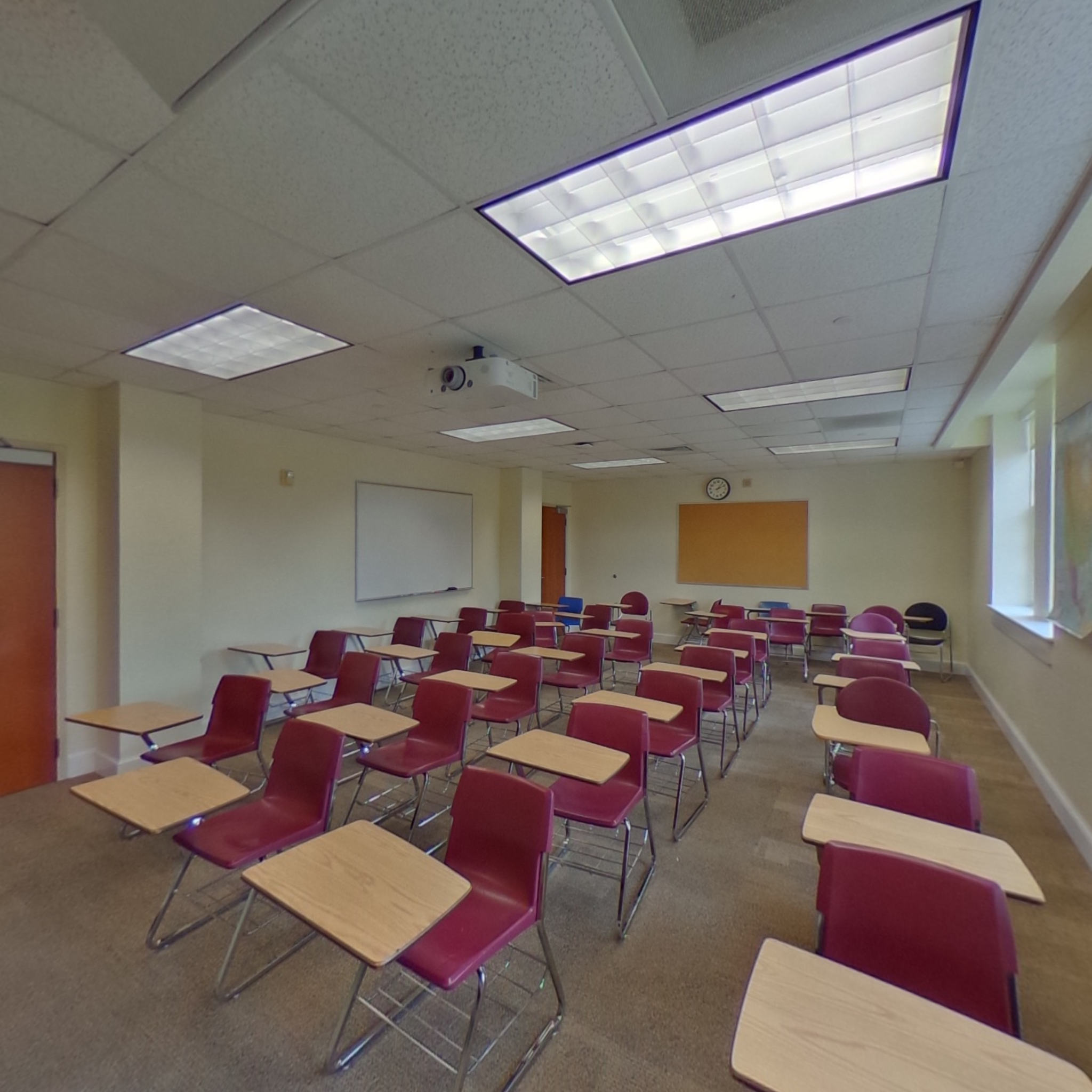 Chambers houses a variety of departments, and many students will have several classes in Chambers in any given semester. Additionally, many professors' offices are in Chambers. 100% of Davidson faculty choose to hold open office hours so that students can come talk or ask questions about a class, an assignment, or anything else!
Because we have small classes and a small student to faculty ratio, students get to know their professors very well, and oftentimes find many mentors here on campus. Professors will even have groups of students over to their house for dinner!
The most popular majors at Davidson are Political Science, Economics, Biology, Psychology, and English. However, we have many other majors and minors for students to choose from! Check out the full list here.
Hance Auditorium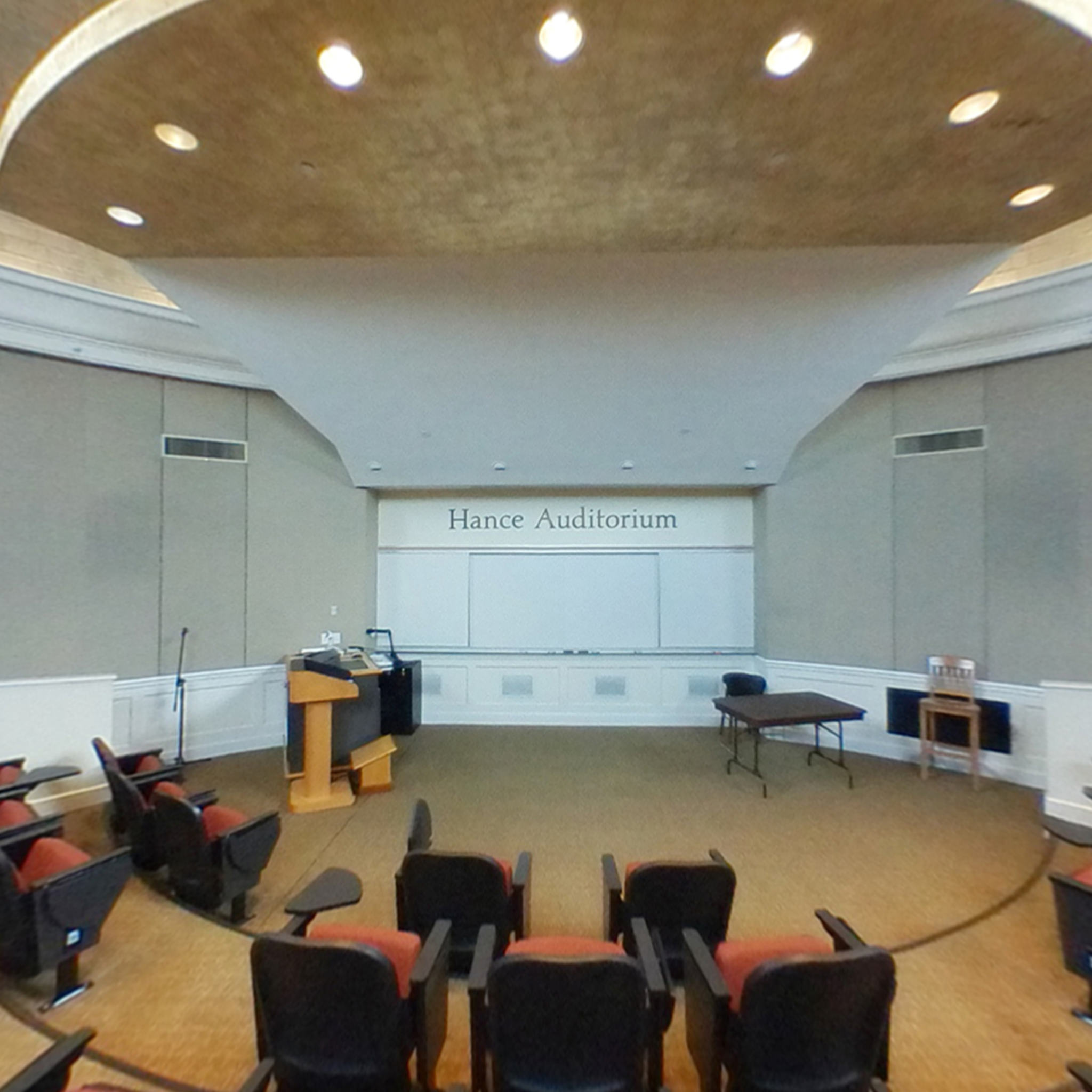 Hance Auditorium is a presentation space located on the top floor, under the dome of Chambers Building. This is a great space for guest speakers, club or group meetings, and video screenings for a variety of classes.
Sculpture Garden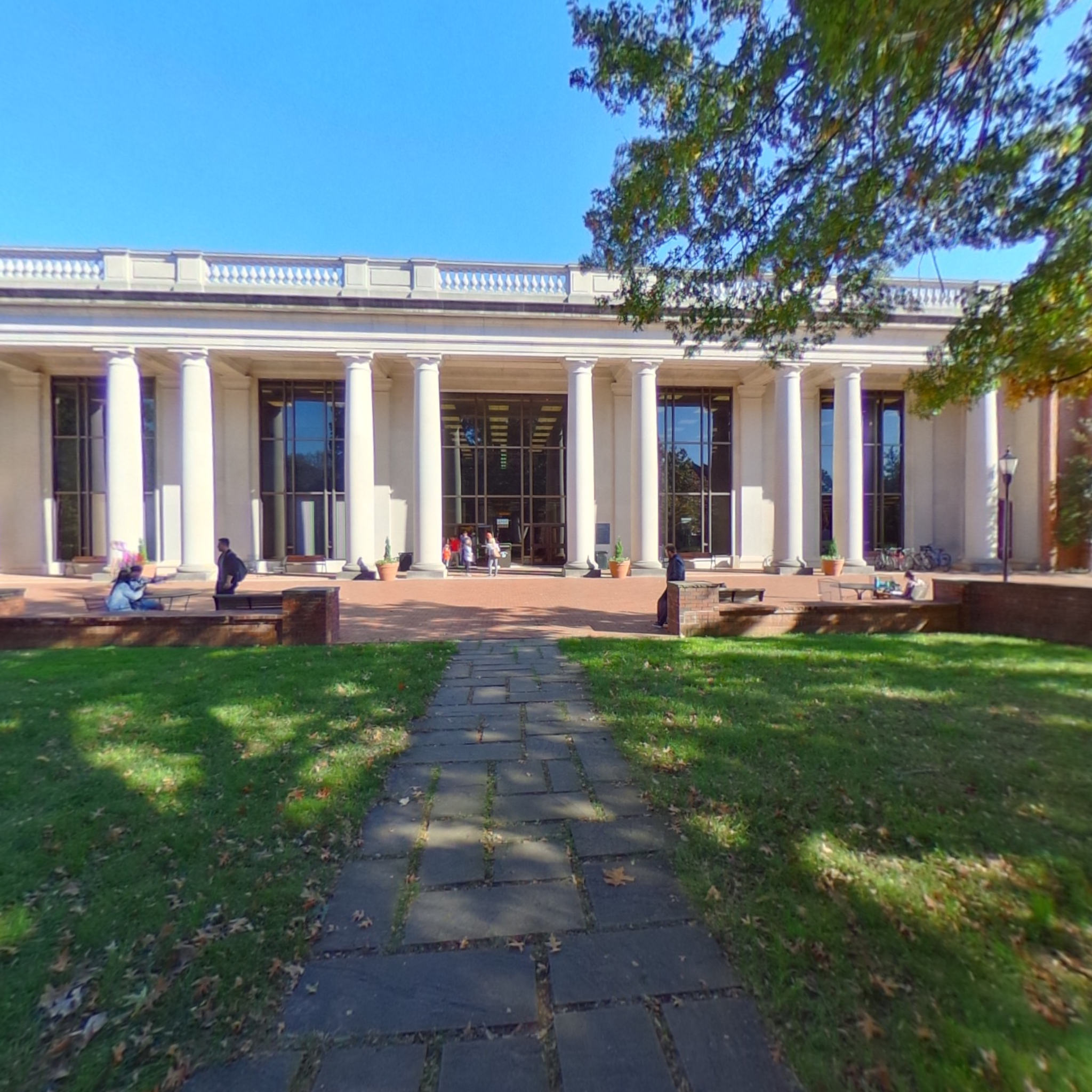 This is the sculpture garden, located between Chambers and E.H. Little Library. Davidson is a fully wi-fi equipped campus, so it is not uncommon to see students studying or doing their homework outside on a nice sunny day!
Learn more about the campus sculpture program.
E.H. Little Library - Entrance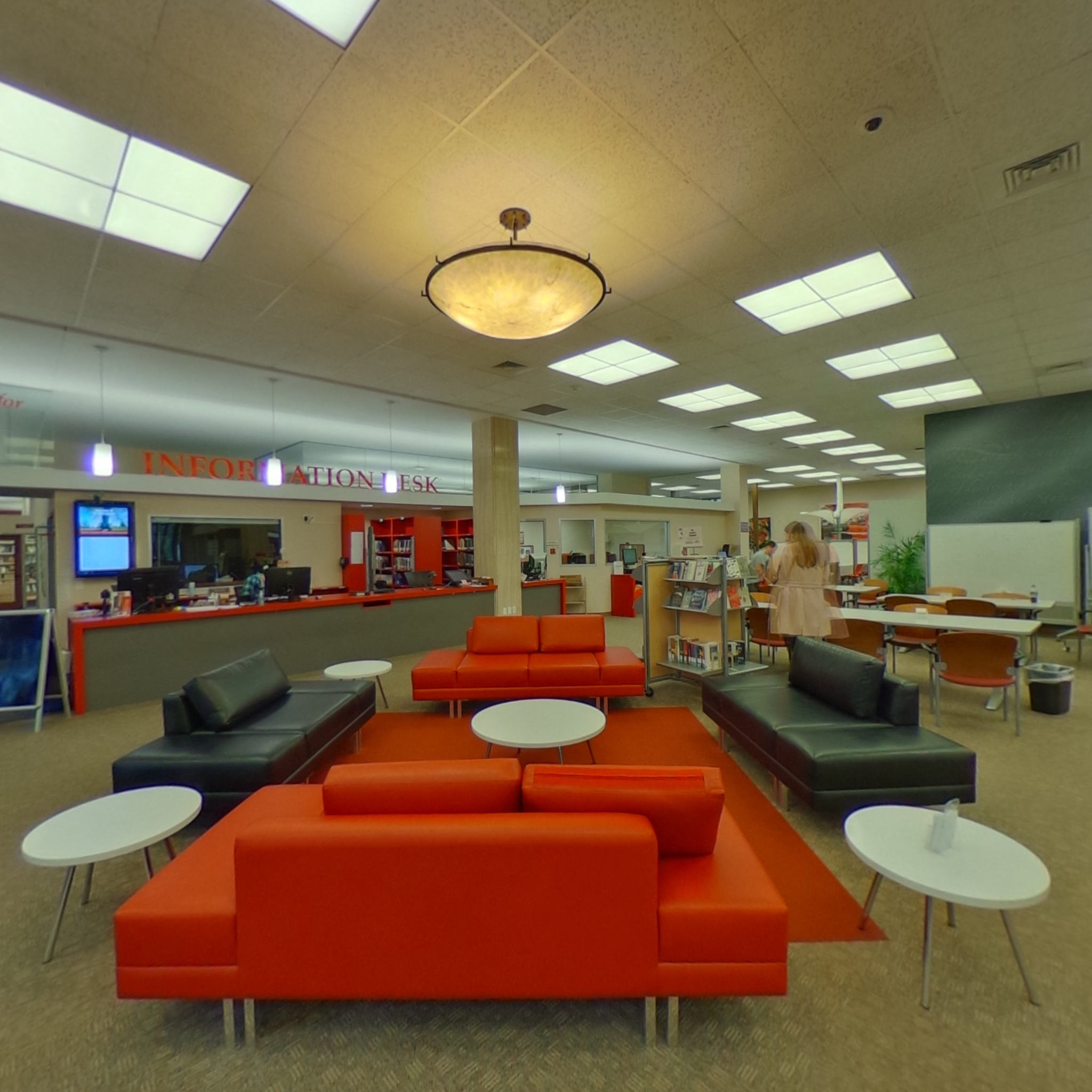 Welcome to E.H. Little Libraryhttps://www.davidson.edu/about/facilities/academic-facilities/e-h-little-library! This is the main library facility on campus, and it is open 24 hours a day, 7 days a week for students during the school year. Students have access to free printing and copying, many desktop computers, as well as our lend-a-laptop program, free of charge.
The Interlibrary Loan system works to secure students access to any book or article they need from libraries across the country. Additionally, the Center for Teaching and Learning is a great resource for students to get tutoring in math, science, writing, or public speaking, free of charge. Peer tutors are chosen by professors and trained to provide this valuable resource Sunday-Thursday afternoons and evenings.
E.H. Little Library - Second Floor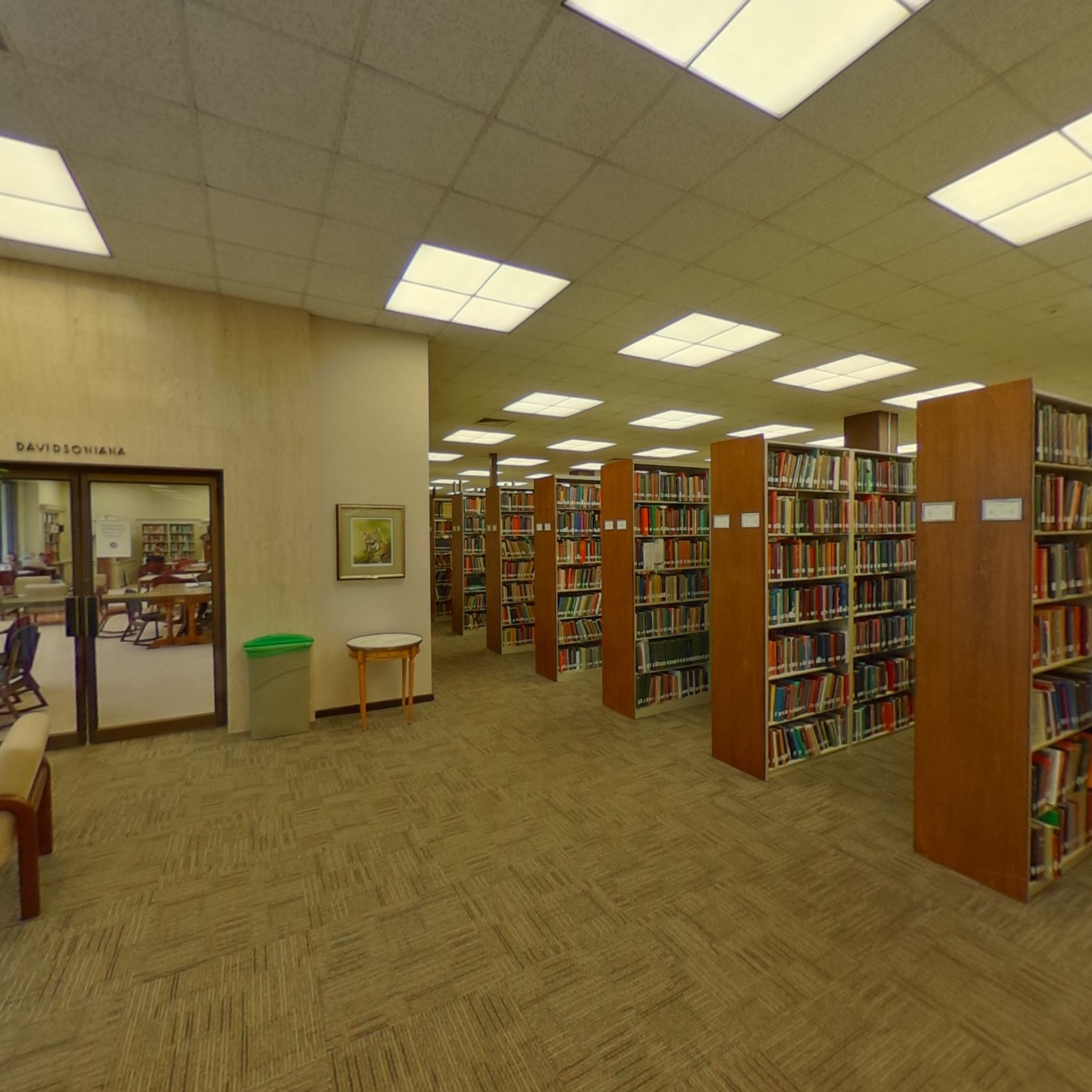 The library has three floors. The first floor is social, used often for group projects, and gets fairly loud in the evenings. The second floor, which we are on now, has individual study carrels, and is quieter, although you will still hear conversations. The Davidsoniana Room is another study space option. Lastly, the basement is a silent work space, with more study carrels and tables. There are many options for students to choose from for various studying preferences!
Take a look at the digital versions of our Special Collections in the Rare Book Room!
E. Craig Wall Academic Building Atrium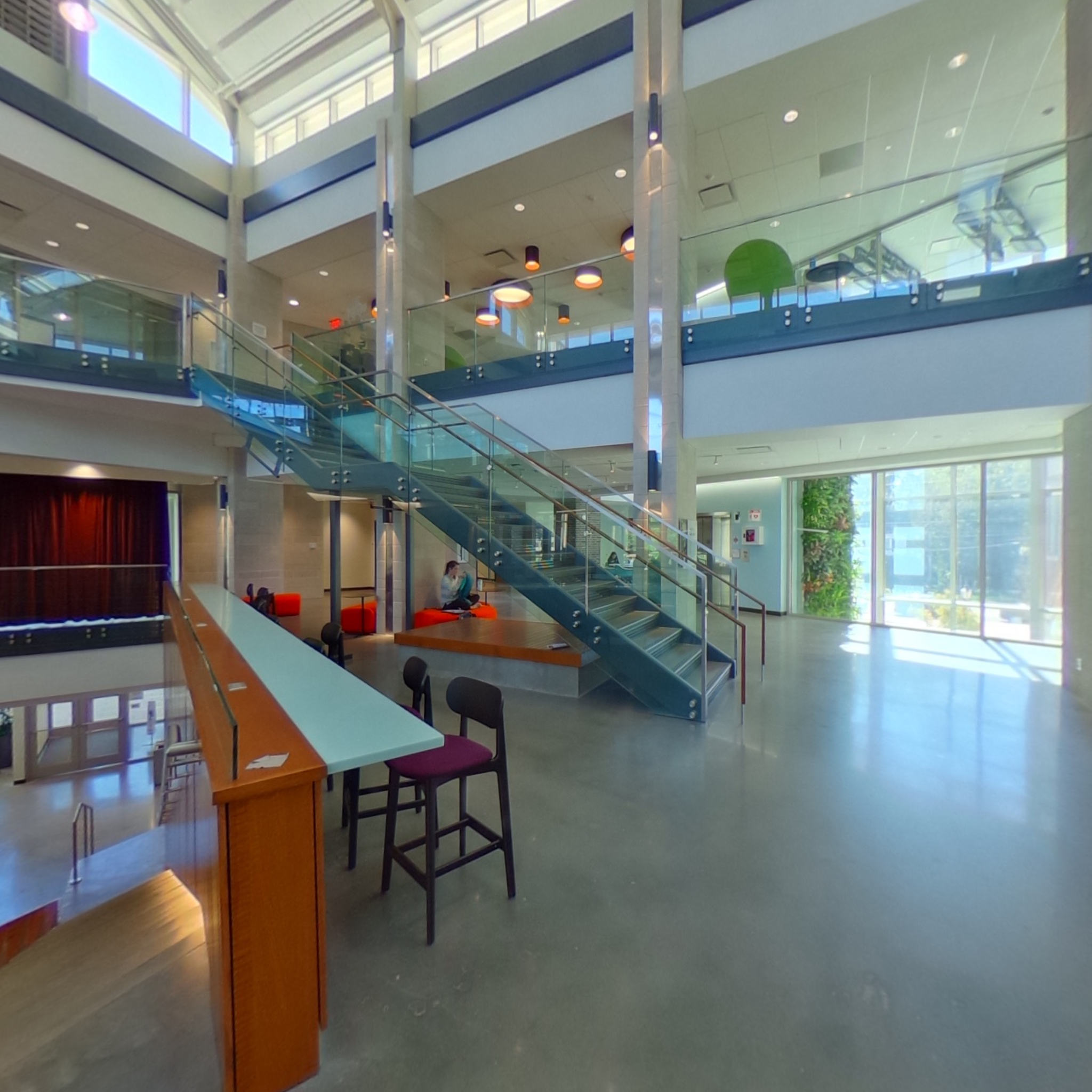 The E. Craig Wall Academic Center was completed in August 2017, and it was designed as an interdisciplinary academic space for students and faculty. It is our main science facility on campus, but lecture courses from various other departments also take advantage of the gorgeous facility.
The atrium that we are in right now is multi-purposed. Many students and academic speakers use this space to present research throughout the year. When events aren't going on, this is a great space for students to meet and study. Davidson also plans to use this space to host national conferences.
Wall holds a LEED Gold Certification and is a great example of sustainability at Davidson. Reclaimed water from condensation in the air ducts feeds the "living" plant wall as well as a fountain behind the building. Carbon-dioxide monitors and motion sensors in classrooms determine whether or not rooms are occupied to minimize energy use in heating and cooling.
Wall Research Lab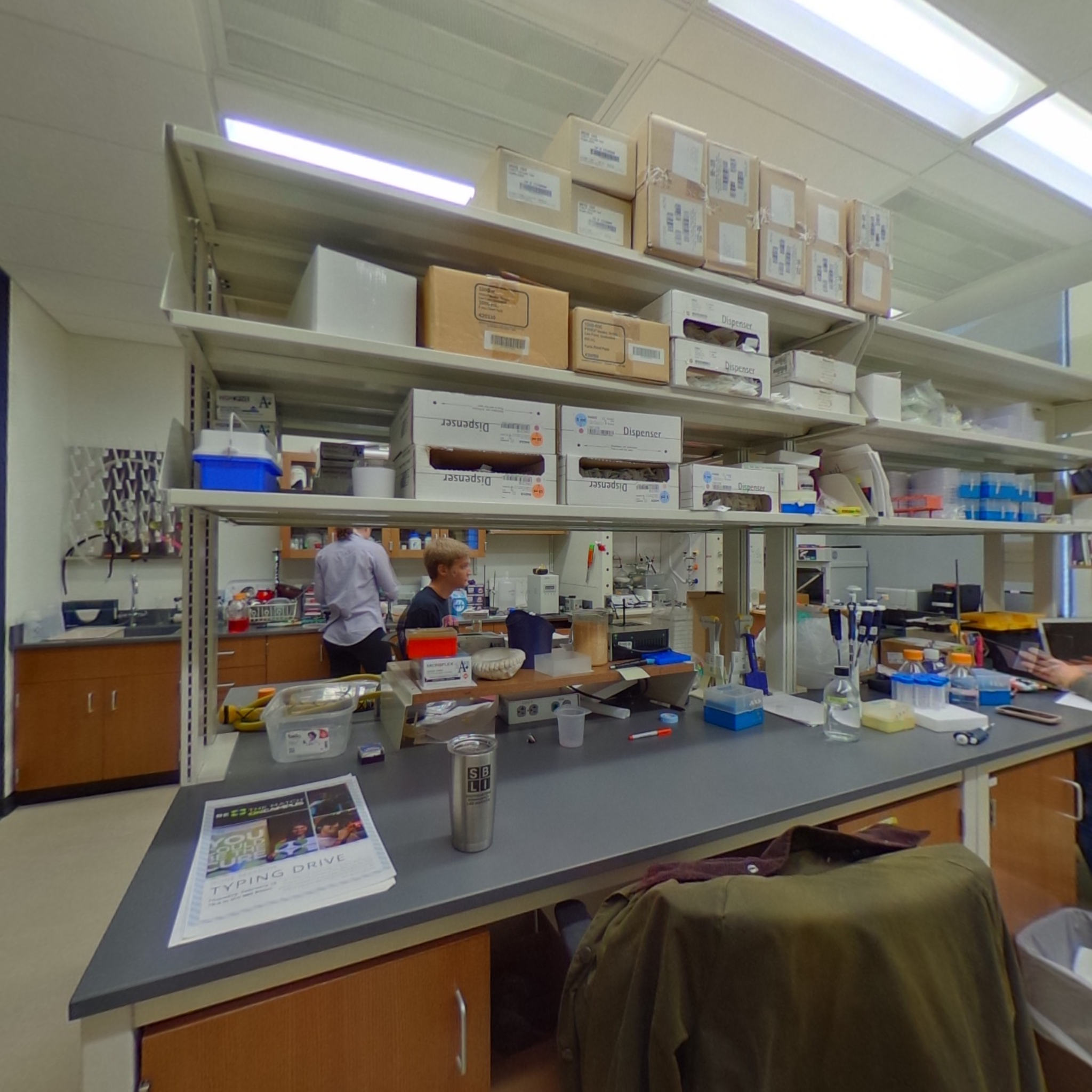 Wall is home to about 40 research labs for student and faculty research. The labs are incredibly customizable depending on the research being done, and each one has space for one faculty member and up to four undergraduate student research assistants. With assistance from their professors, Davidson students have the opportunity to conduct research throughout the year and over the summer.
Wall Center Martin Study Space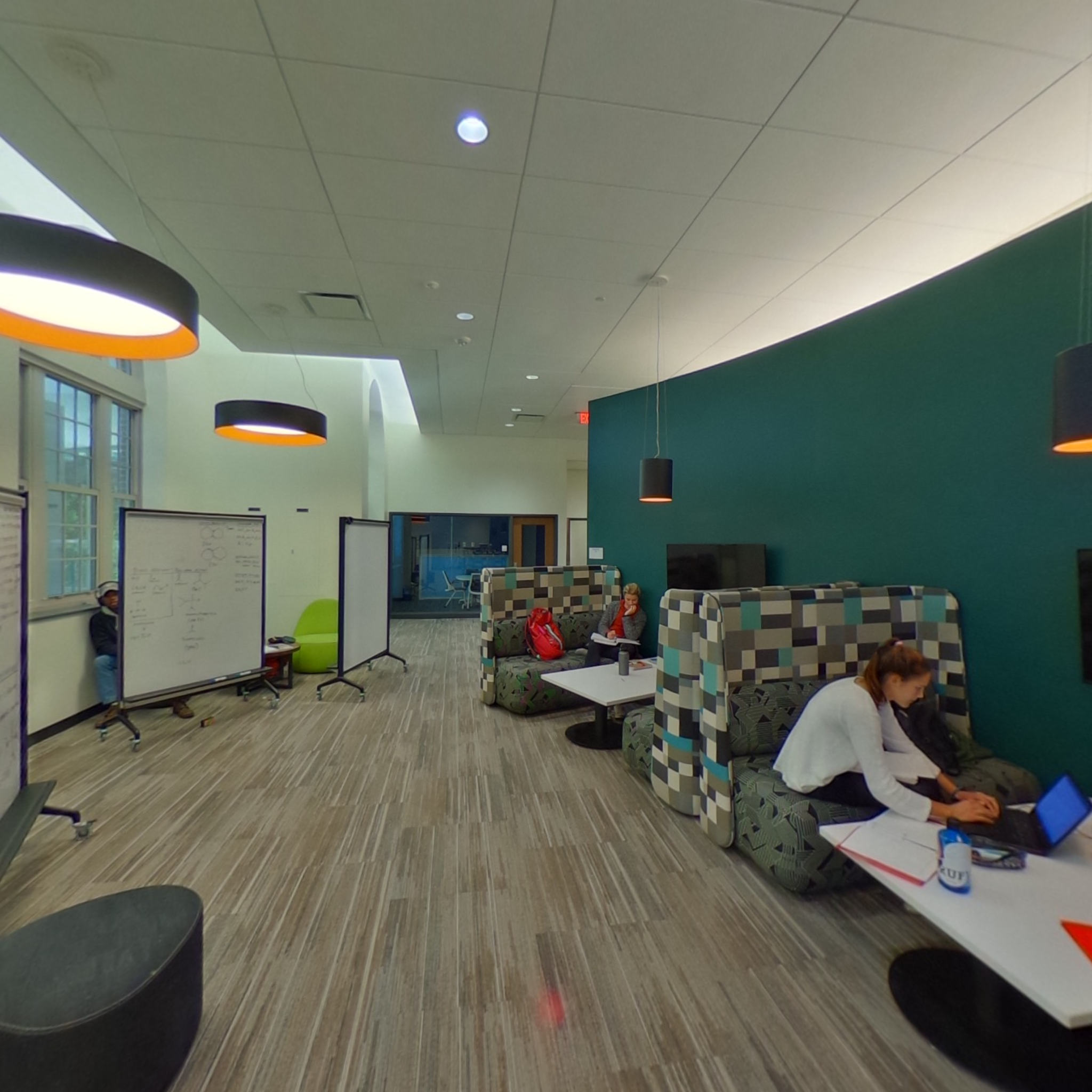 This is just one of many study spaces in this building. Students can work individually or in groups, and there are study rooms and computer labs in this building as well, as well as a lend-a-laptop station and a printer downstairs.
The Arts
Katherine and Tom Belk Visual Arts Center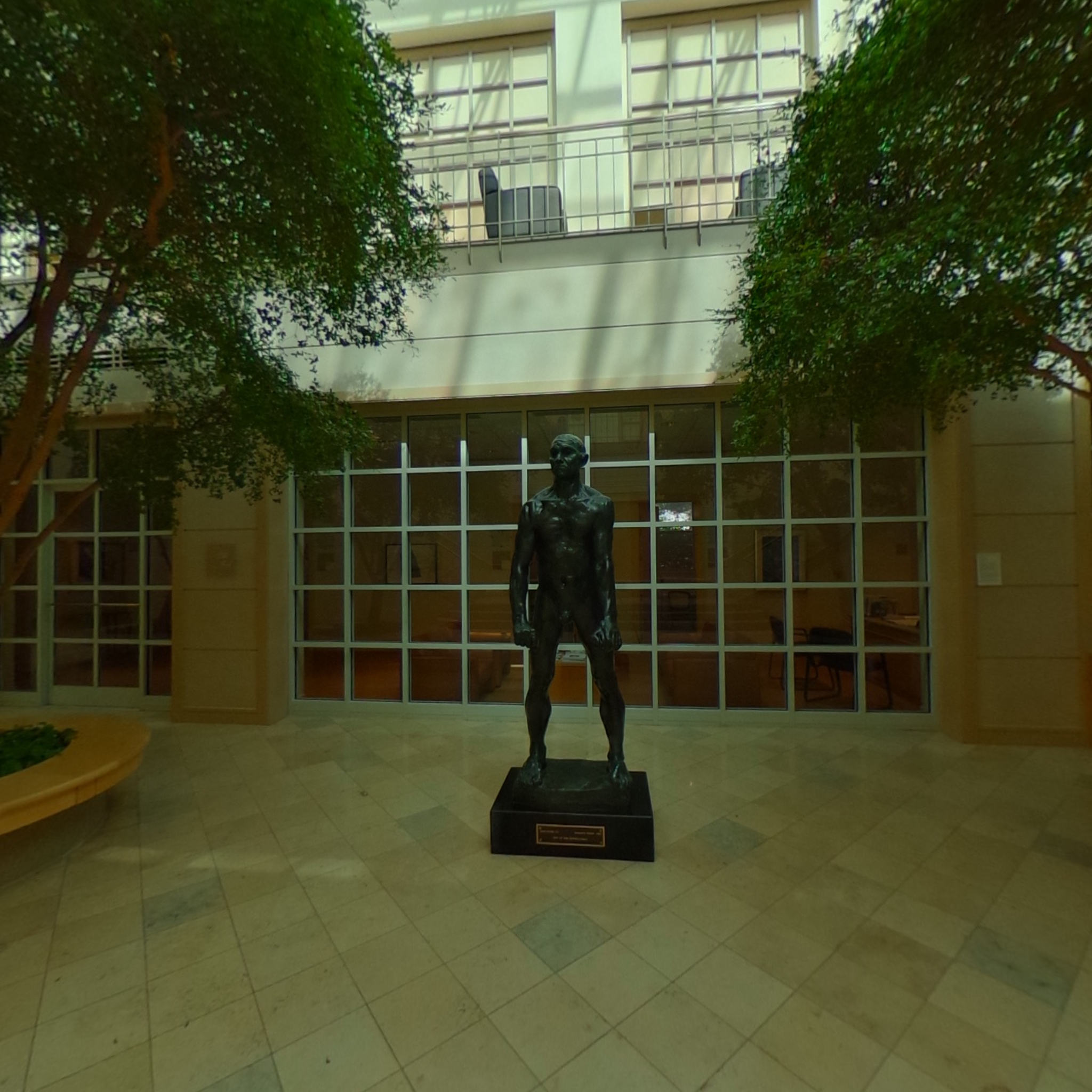 The Katherine and Tom Belk Visual Arts Center is home to our studio art and art history classes. The building is 43,000 square feet of state-of-the-art facilities for painting, drawing, printmaking, bronzework, and sculpting. If you can dream it up, you can create it here in the VAC! Within the VAC, we have a Lecture Hall, Seminar Room, Art Studios, and Classrooms. The classrooms are unique to the course being taught, so students are free to come back and work on their artwork anytime throughout the semester.
Art majors are allowed to apply for a studio beginning in their junior year on a semester by semester basis. These studios are right alongside professor's studios, a great opportunity for collaboration. This is one of the many examples of how accessible professors make themselves at Davidson.
The Original Gallery contains about 4,000 to 5,000 original works. Works in the gallery include those by Rembrandt, Matisse, Edward Hopper, and Andy Warhol. An original Rodin sculpture stands in the atrium. It is the only one in the world you can touch!
The Van-Every and Smith Galleries are for visiting exhibitions and student art shows; not just for art majors and seniors! Studio art majors are required to have an exhibition of their work during their senior year in which they invite friends, faculty, and family to see their artwork and sometimes get the opportunity to sell their artwork. To learn more about The Arts, click here!
Painting Studio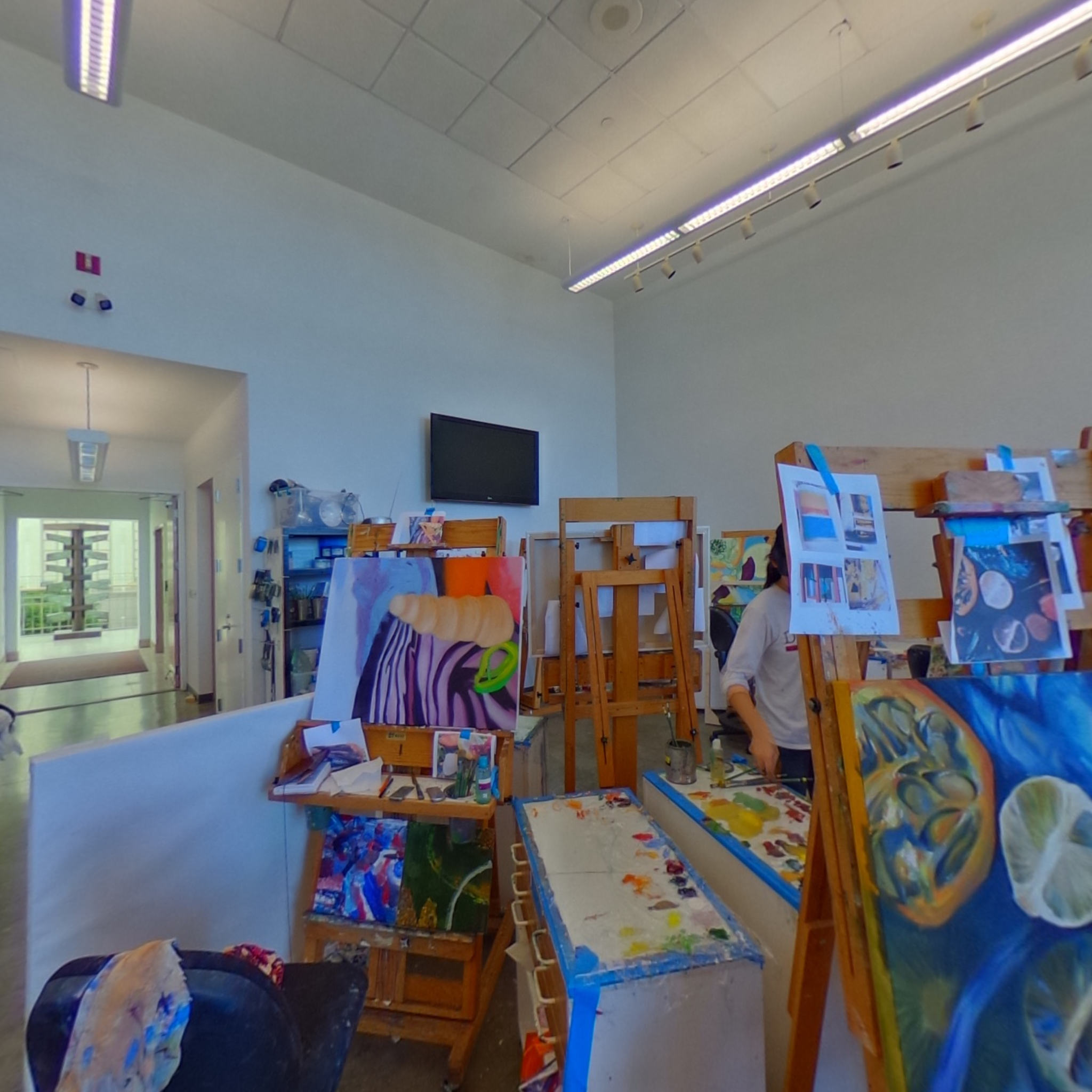 Art history courses are taught in the 50-seat lecture hall, the Mary D.B.T. Semans Auditorium, with complete audio-visual capability. The adjacent seminar room also provides digital access to work studied in each currently offered course.
Card access allows this and other work and study areas of the Visual Arts Center to be available to art students 18 hours a day. The slide and digital collection of more than 70,000 images is managed by a visual arts curator and available as a resource to students.
For the study of studio art, the Visual Arts Center contains separate shops for etching and lithography, including one of the finest collections of lithographic stones in the country. The 6,500 square-foot sculpture area enables students to work in wood, clay, plaster, metal, and features an outdoor bronze foundry and 3D printing capabilities. On the second floor are large classroom studios for painting and drawing, as well as a state-of-the-art digital lab.
Senior studio art majors are granted individual studios on a competitive basis. Faculty offices with adjoining studios and a comfortable student-faculty lounge complete the Visual Arts Center's space. Learn more about the Arts here!
Sloan Music Library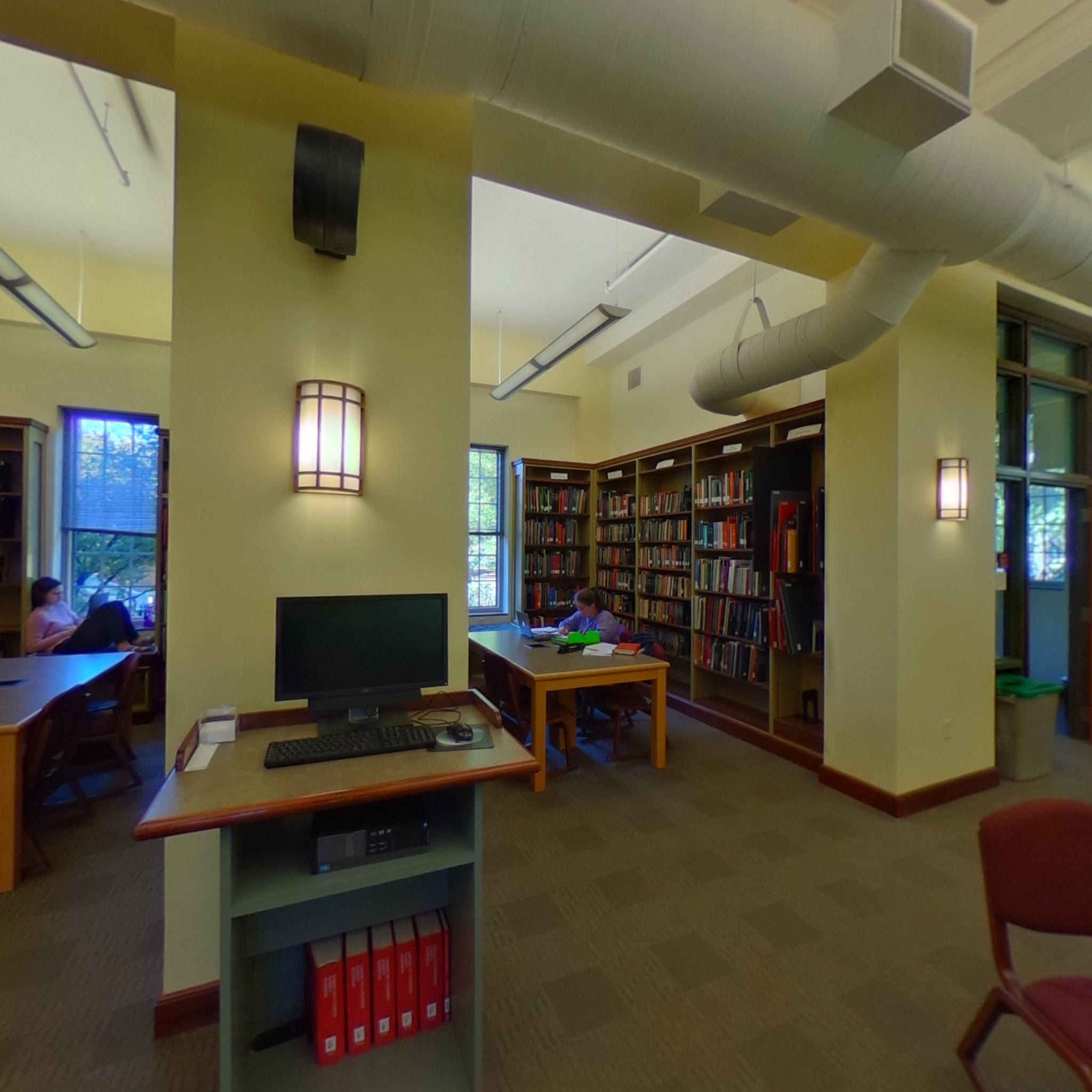 Tyler-Tallman Recital Hall is a conservatory-quality facility on a liberal arts campus. Facilities in Sloan include Tyler-Tallman Recital Hall, the music library with over 10,000 recordings , scores, and books, a full orchestra rehearsal room, a full choir rehearsal room, an electronic music studio, keyboard lab, recording lab, and rooms for individual practice.
Around 60 concerts are sponsored by the music department every year. There are also non-department sponsored acapella groups, ensembles, and student bands. Davidson also does have a classical radio station, WDAV at 89.9 FM, and some students will host radio and talk show programs there.
Tyler-Tallman Hall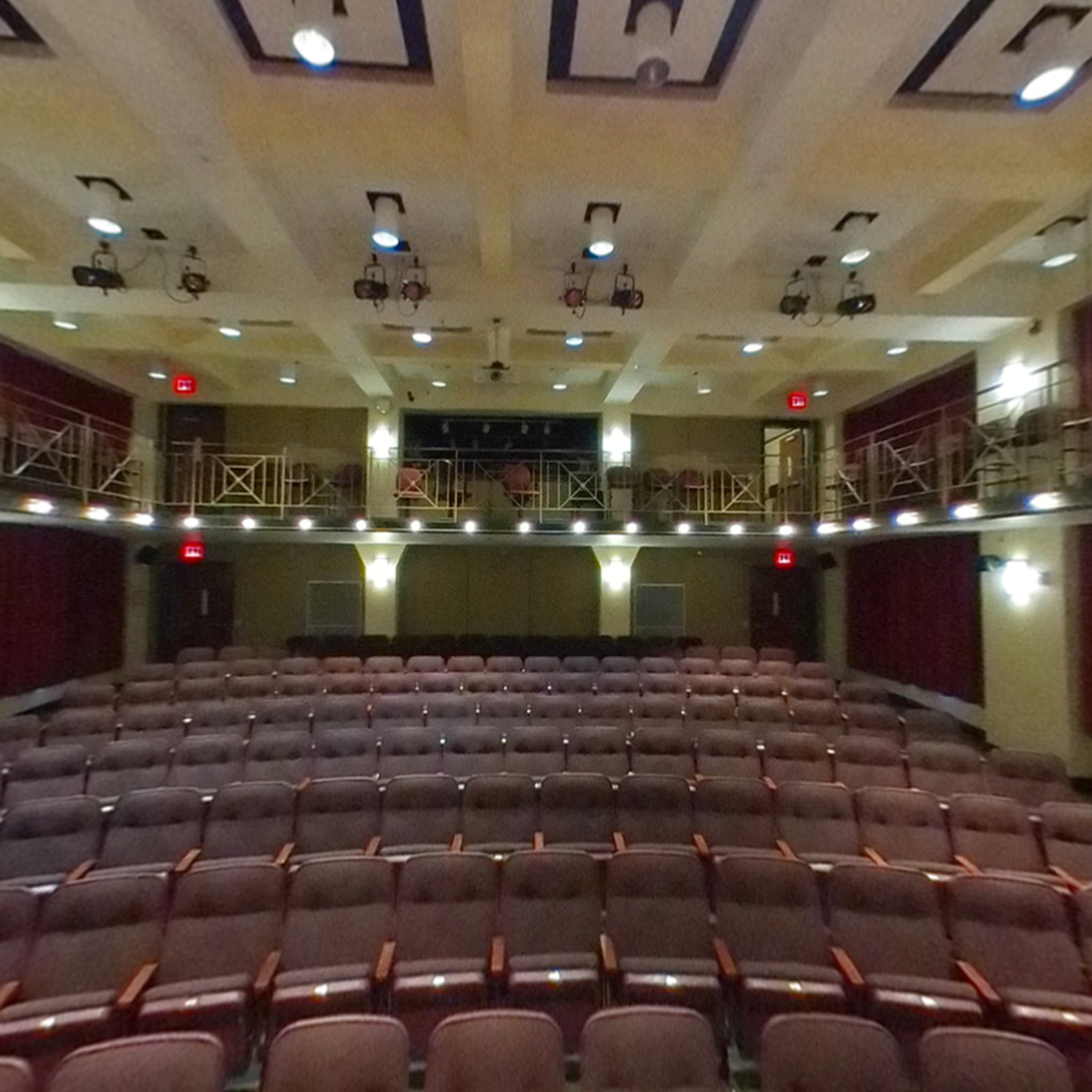 The centerpiece of the Sloan Music Center is the 180-seat Tyler-Tallman Hall, an acoustically and visually stunning recital hall. The two-tiered venue is ideal for intimate musical performances and lectures, and is located on the upper floor and features two Steinway concert grand pianos and full audio-visual capacity to host recitals, lectures, and master classes. A gift from 1969 graduate Sam Tallman in memory of Samuel Vose Tallman, Stanley Tyler Tallman and Alice Berry Tyler.
Cunningham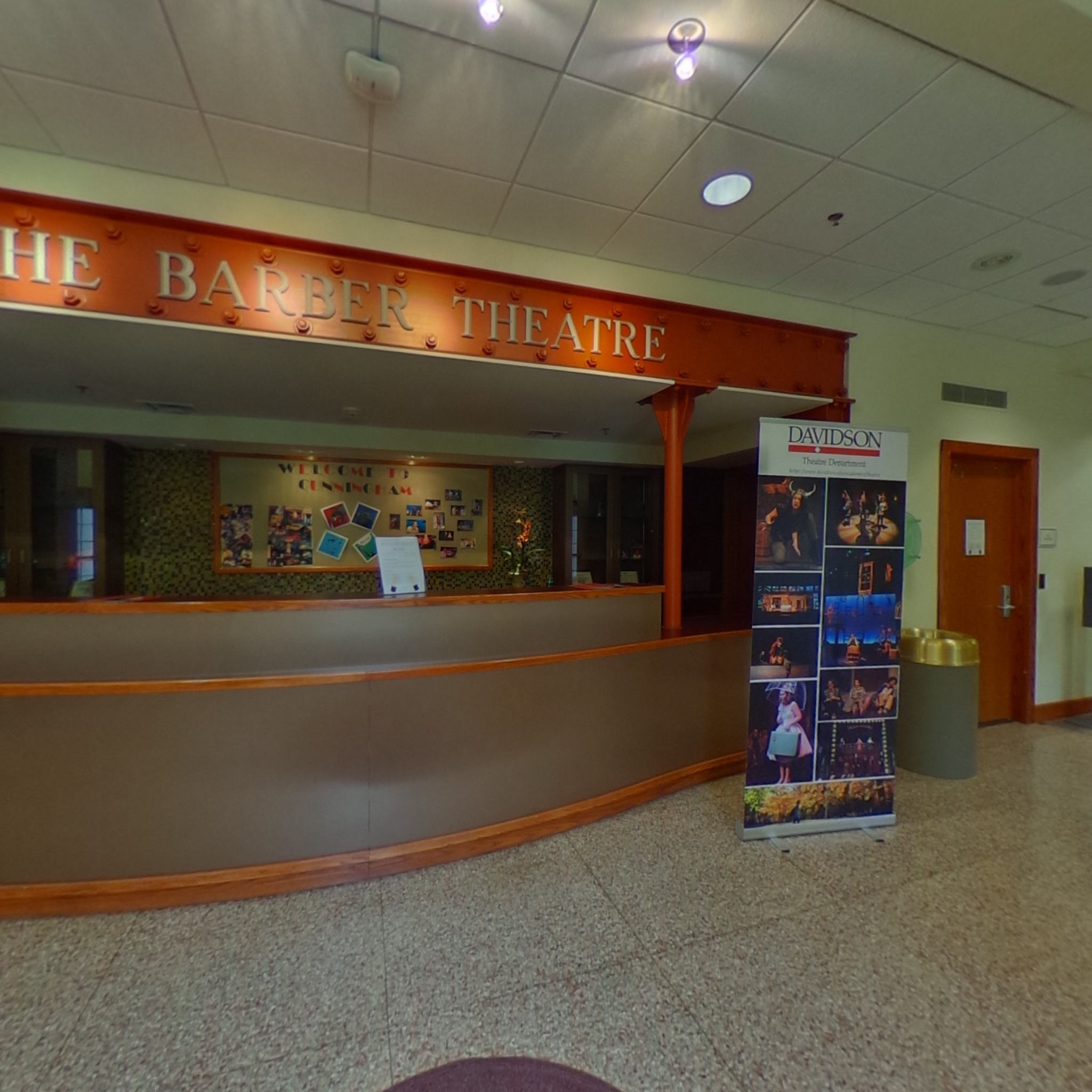 Cunningham Theatre Center is home to our theatre department. Each year the theatre department puts on two main stage productions and two second stage productions, as well as smaller productions throughout the year. The main stage productions take place in Duke Family Performance Hall in the Union, our largest performance venue. The second stage productions, student-directed works, and one act plays take place in the Barber Theatre.
Students do not have to be a theatre major to take part in theatre productions! Theatre and non-theatre majors alike hold lead roles in productions throughout the year.
Student Life
Dorm Room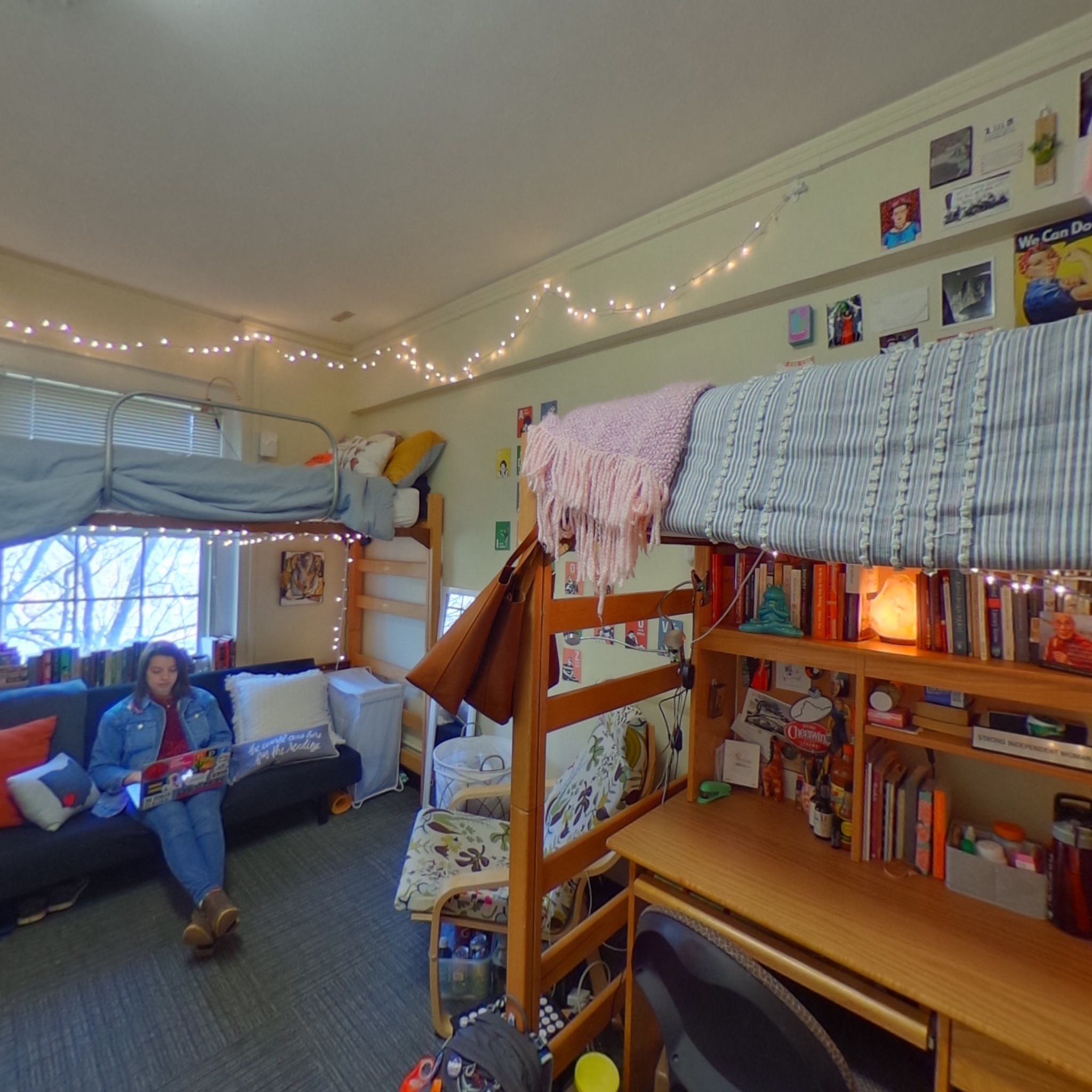 Welcome to a first-year dorm room at Davidson! Every dorm room at Davidson is air conditioned and Wi-Fi enabled, and every first-year room has a sink!
95% of students will live on campus all four years. Roommates are chosen holistically using a housing preference sheet as well as the Myers Briggs Personality Type Indicator. Each first-year roommate pair is hand-selected based on their similarities and differences according to these results, among other attributes!
Commons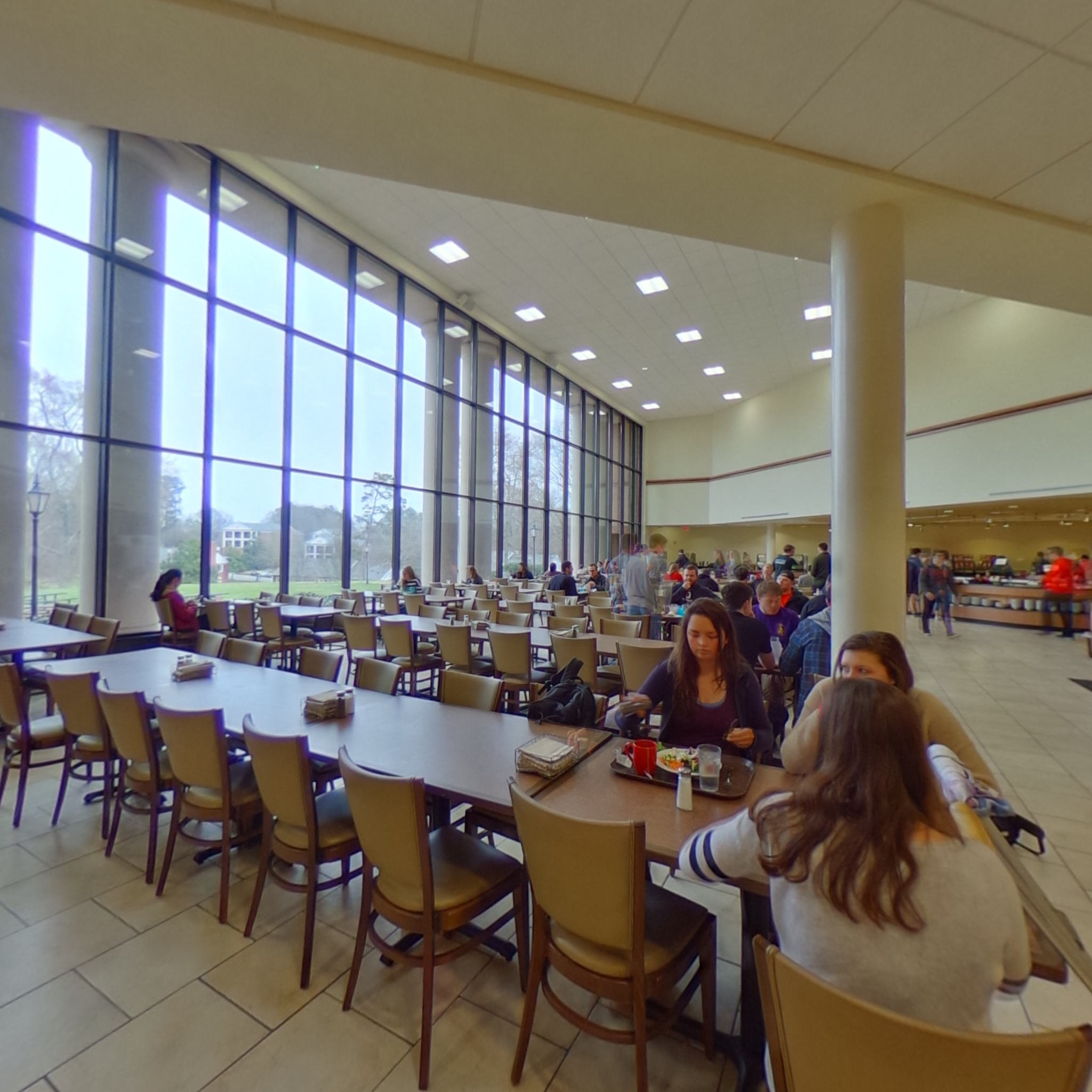 Vail Commons is our largest dining option on campus. Commons is an all-you-can-eat menu with many options available, including gluten-free, vegetarian and vegan options. Commons will often create themed meals. A favorite among students is "Commonsgiving" which is a traditional Thanksgiving meal served before Thanksgiving Break. Last year, 1,300 of our 1,900 students came to Commonsgiving to share a meal with their fellow Wildcats!
Patterson Court Lawn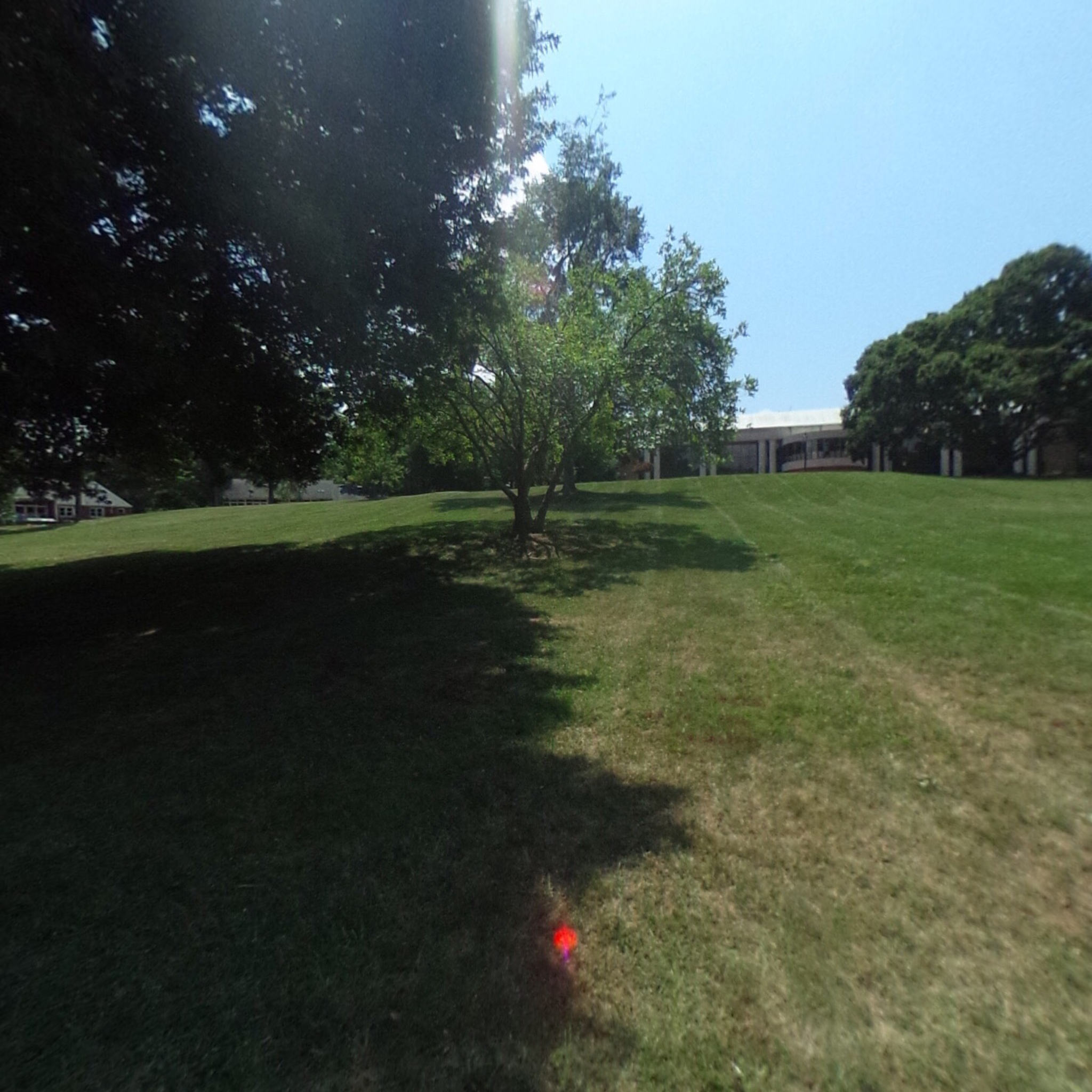 Patterson Court houses our 16 Patterson Court Council organizations. The purpose of Patterson Court Council is to enrich the Davidson College experience for students, serving as a diverse community of both service-based and social fraternities, eating houses, and sororities.
Patterson Court Council promotes a strong sense of fellowship and inclusion amongst individual members, member organizations and the greater Davidson College community.
By the Numbers:
16 Organizations
3 Sororities
4 Eating Houses
8 Fraternities
Learn more about Patterson Court Council.
Summit Outpost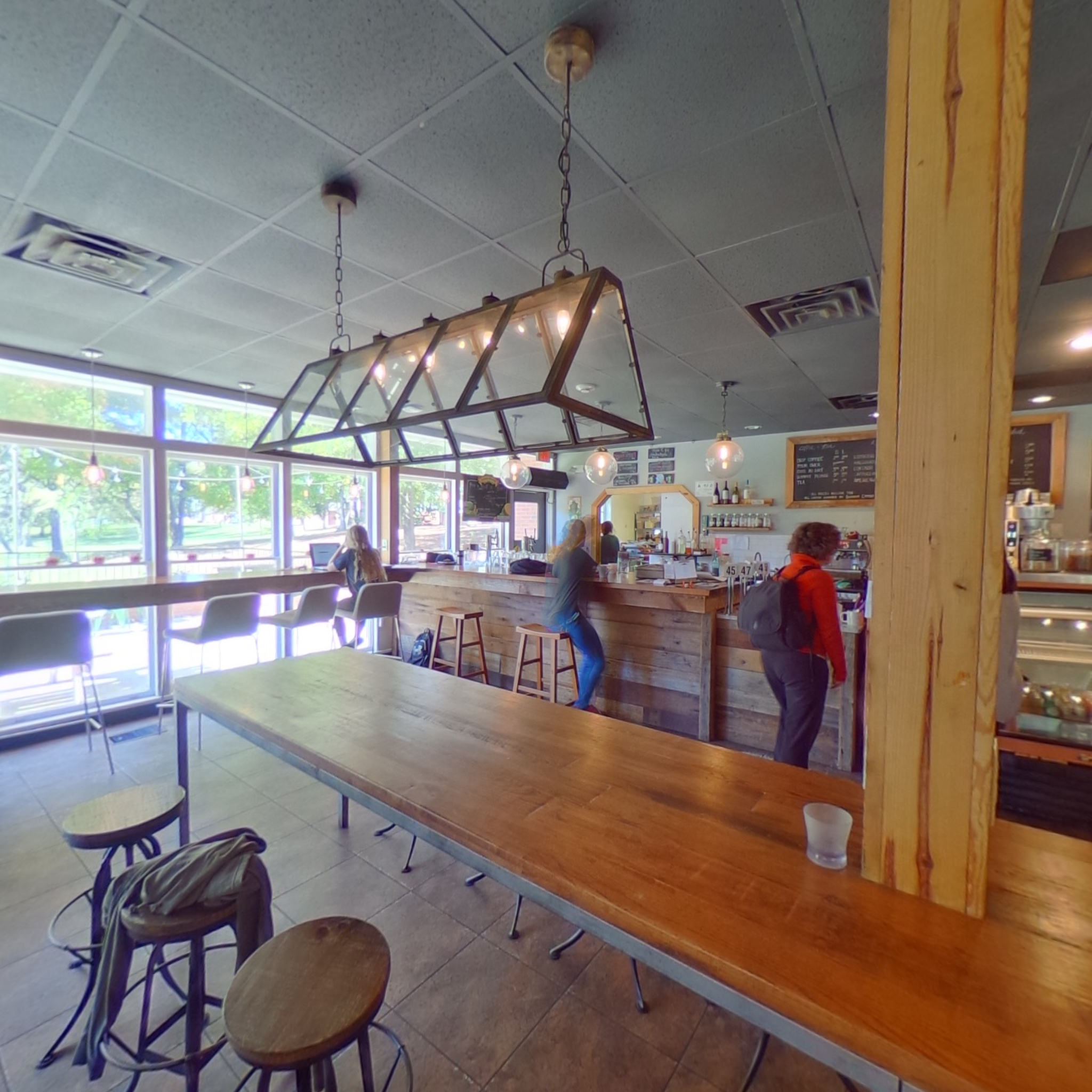 Summit Coffee Outpost, affectionately known as New Summit or "Nummit", is the on-campus coffee shop. Nummit is the place to go for an iced mocha or avocado toast. Students also like to come here to do work, or take part in Wednesday night trivia games!
Duke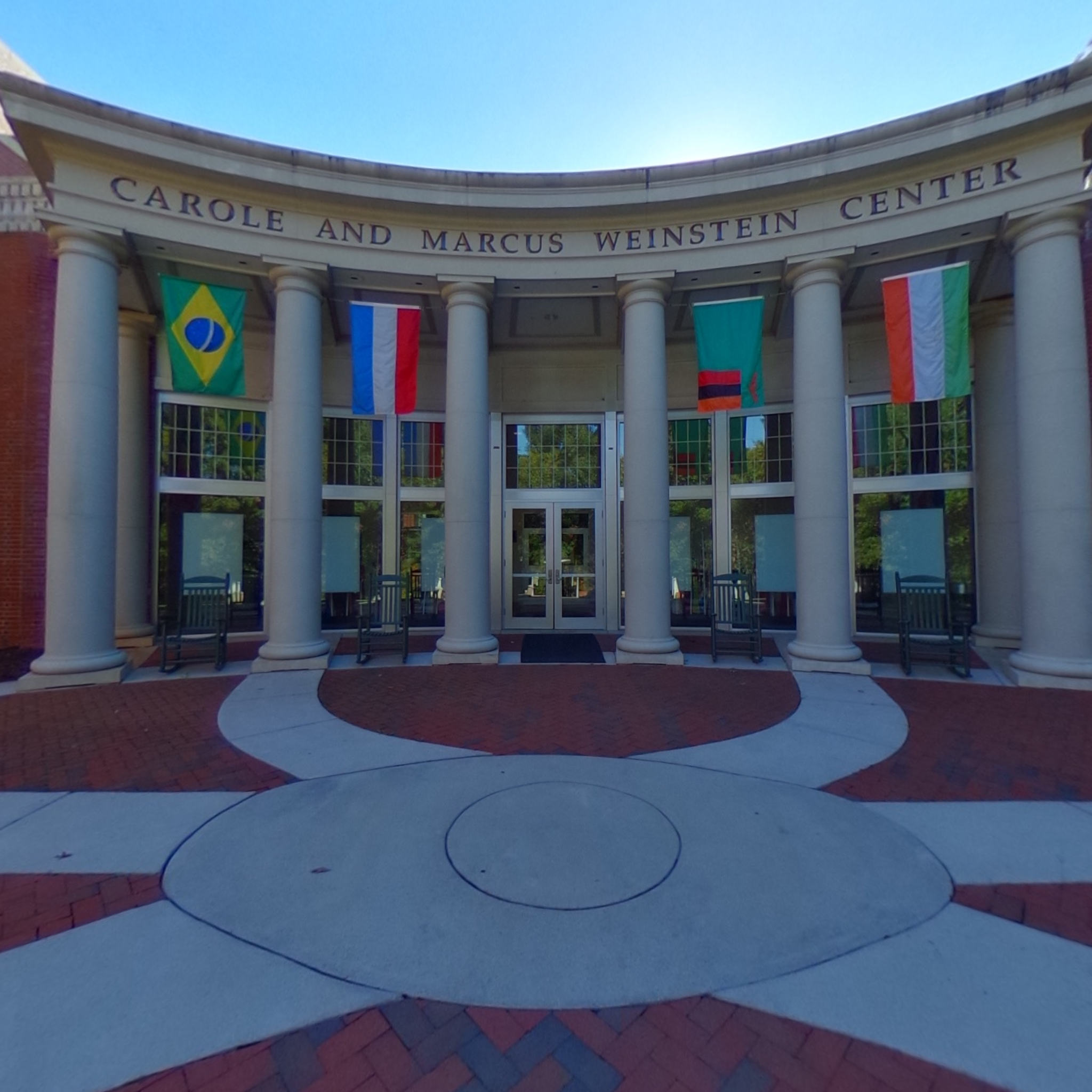 This is Duke residence hall, which is home to the Dean Rusk International Studies Program. Dean Rusk supports students in study abroad opportunities! About 80% of students have traveled abroad in recent years, and about 65% do so for academic credit. Study abroad counselors work to help students find the program best suited to their academic and personal interests, and financial aid travels with students abroad. The Dean Rusk Center also awards grants to students for independent travel and research projects. You can learn more about study abroad opportunities here!
We also have over 100 international students here at Davidson, who are supported through our International Student Services. There is a strong international community, and every international student can opt to have a host family here in the Davidson area.
Additionally, this is the first LEED (Leadership in Energy and Environmental Design) certified building on campus. Every single building that has been constructed or renovated since then is LEED Silver certified, which speaks to Davidson's sustainability efforts!
Spencer Weinstein Center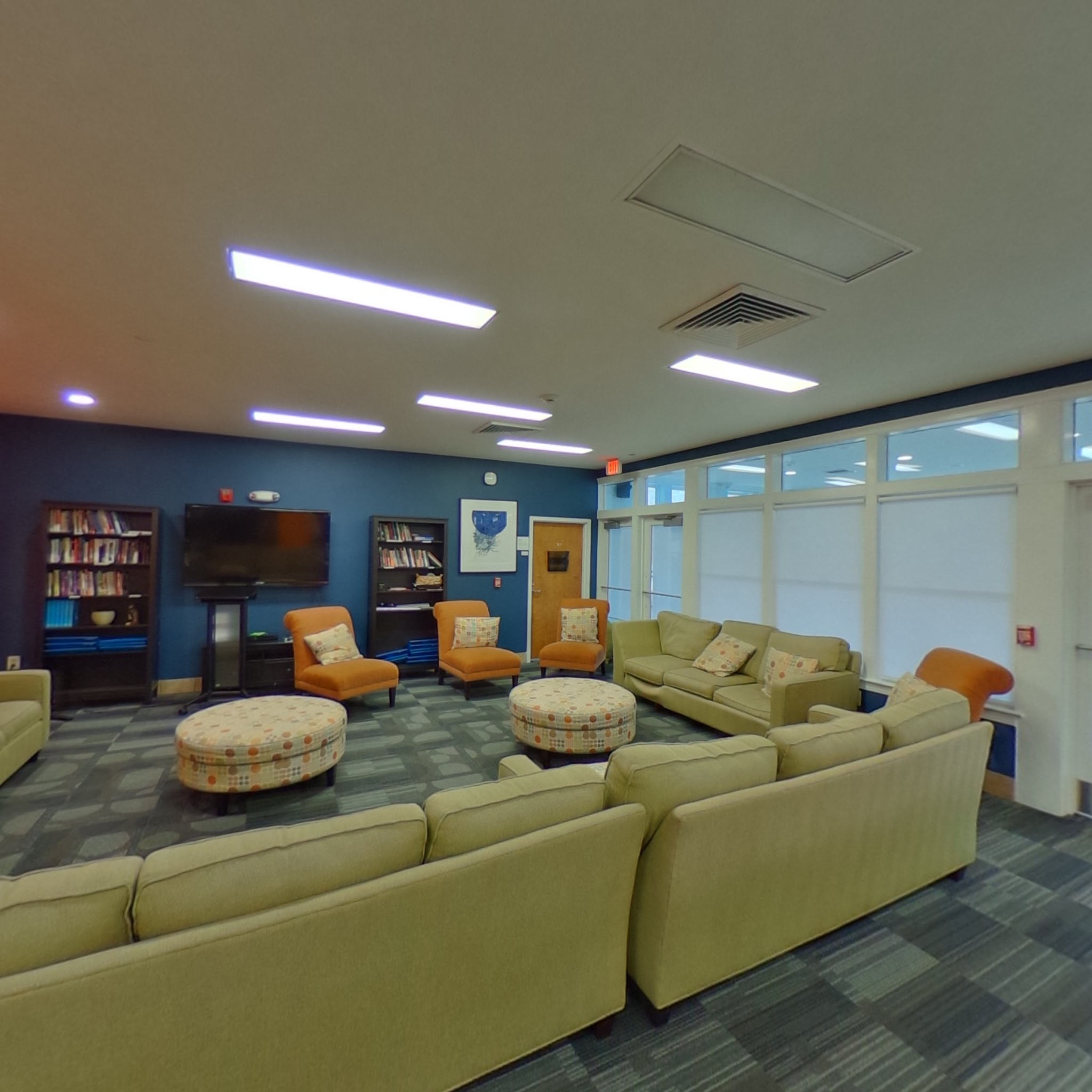 The Spencer-Weinstein Center for Community and Justice serves to foster mutual respect and understanding among-and for all-people of different cultures, backgrounds, experiences and worldviews, and to help the college achieve its stated commitment to diversity.
Students, faculty and staff create and implement learning experiences that promote social, cultural, and educational programs that advance pluralism and inclusivity across the campus. All involved act to make our community more socially just because we recognize the dignity and worth of every person.
Lavender Lounge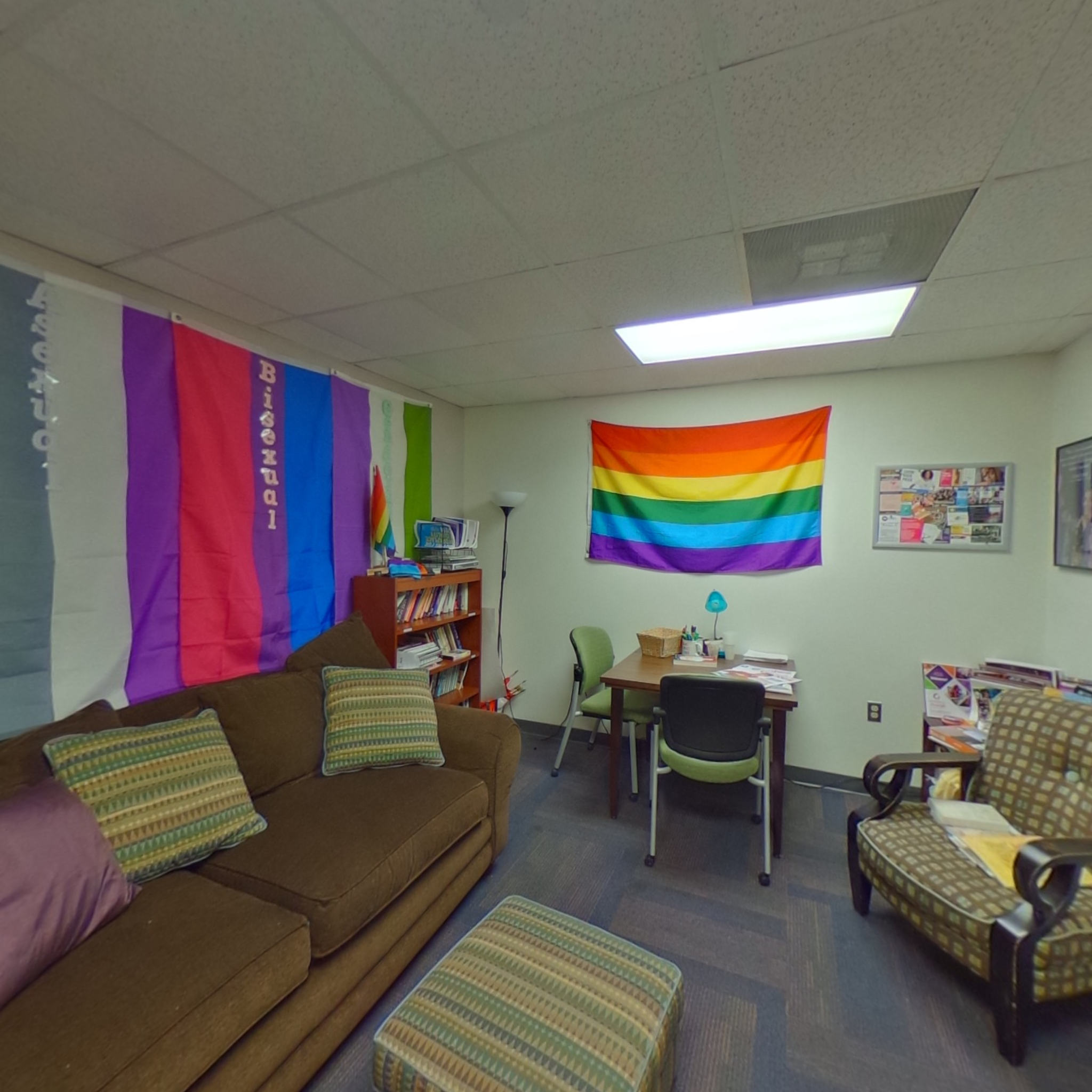 The LGBTQ Resource Library and Lounge, affectionately known on campus as the Lavender Lounge, is located inside the Residence Life Office in Belk Residence Hall. The lounge is open to all students, faculty, and staff.
Academic departments and student organizations are able to use the space for meetings and film showings. Normal operating hours are 8:30 a.m. to 5 p.m. on weekdays, but groups can request after-hours or weekend access by emailing Lavender Lounge at LGBTQ@davidson.edu. The Lavender Lounge contains about 300 books, films, documentaries, TV shows, and educational materials from advocacy organizations.
Union Porch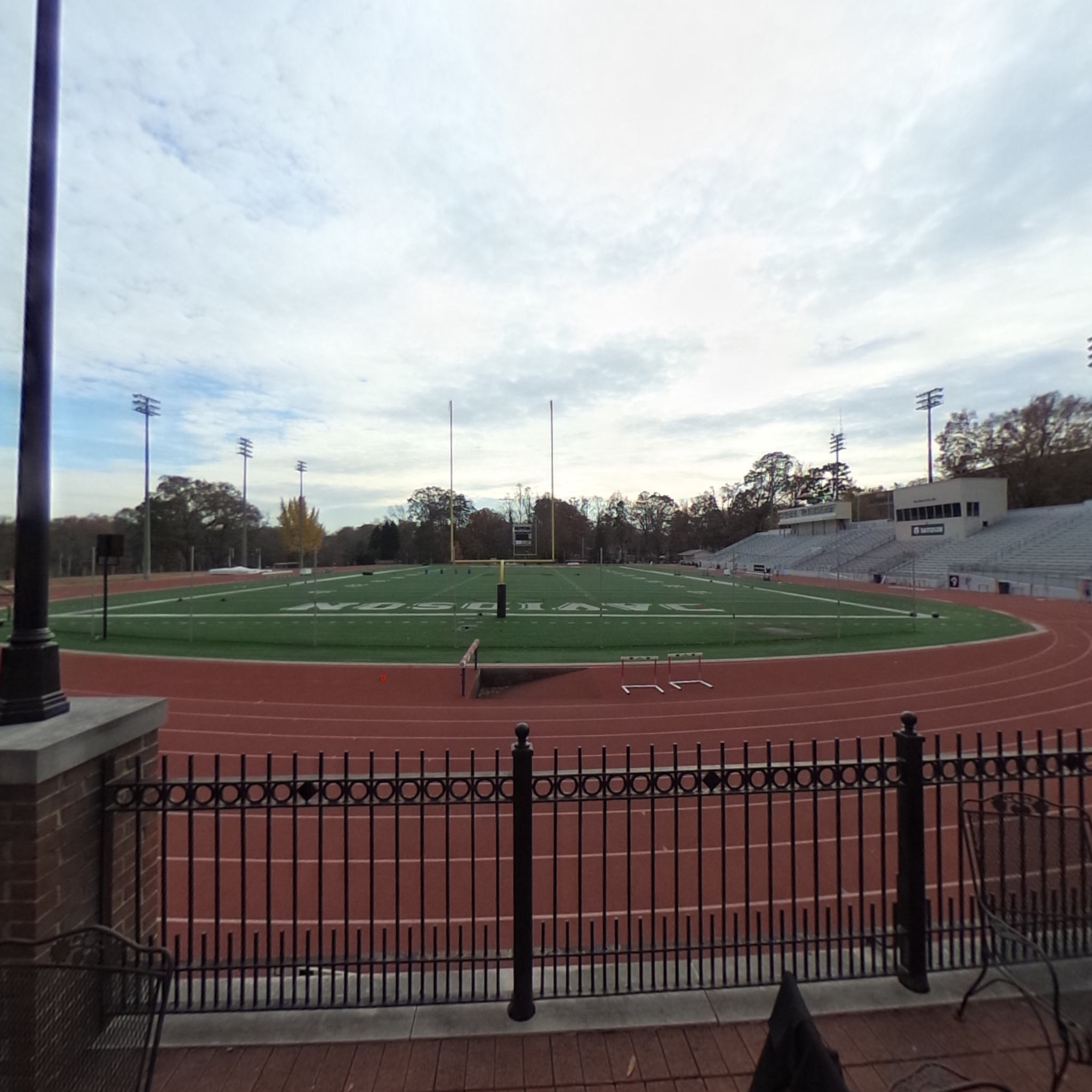 Welcome to the Alvarez Student Union! The Union Porch is a student favorite when it comes to doing work outside, with a beautiful view overlooking Richardson Stadium! Head on into the Union to see the "student hub" of campus!
Alvarez Student Union Third Floor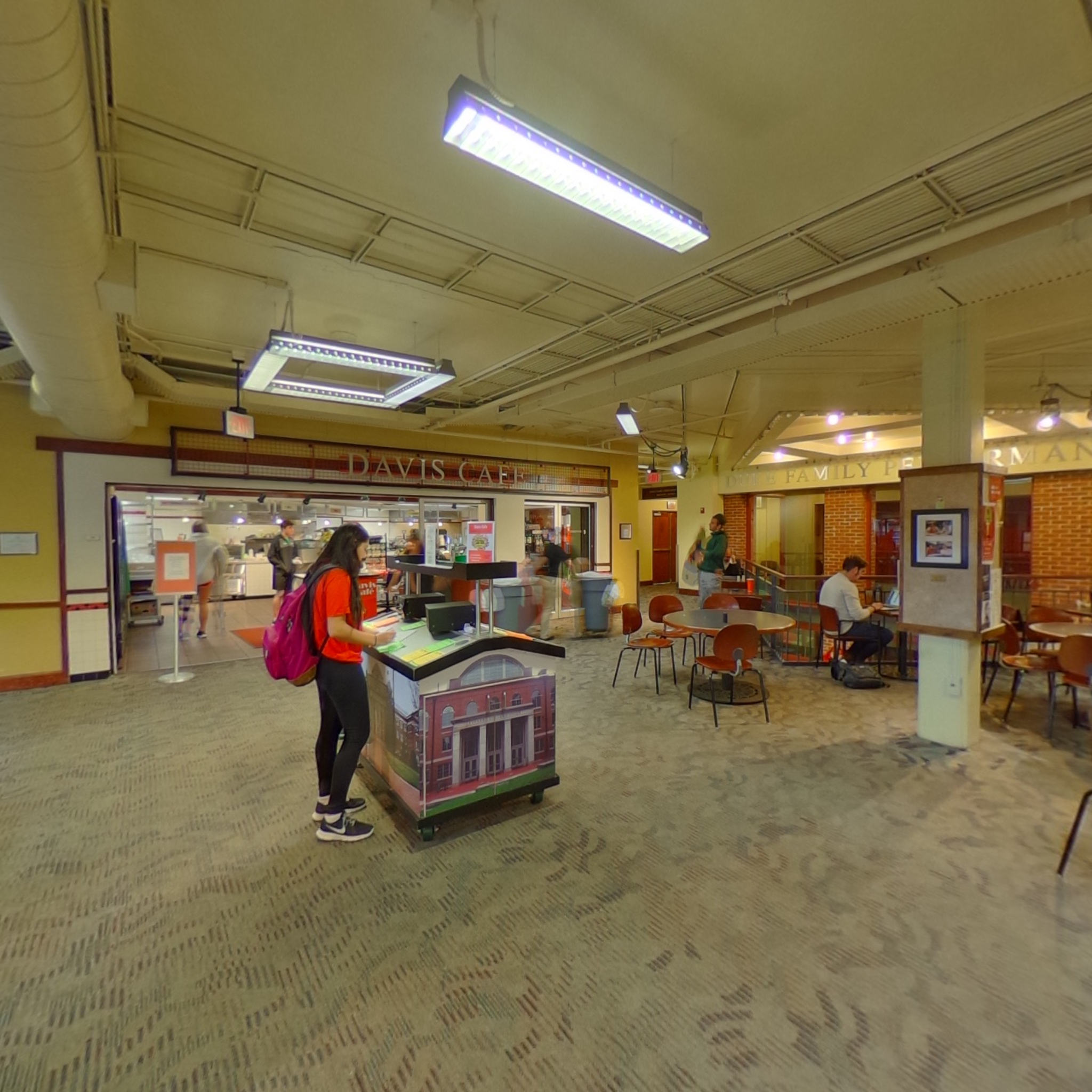 This is the Knobloch Campus Center, also known as the Student Union, which is a main hub for social life on campus. On this floor, you can see the Davis Café, which is a popular meal plan option for students. Additionally, the 900 Room hosts a variety of events every week. The Union Board is a student organization that puts on social events every week for students. Past events have included free food & karaoke after midnight, movie screenings with DIY pancakes, indoor roller skating and milkshakes, video-game contests, or giant 'Wipeout' style inflatables on the lawn with free ice cream. The Union is also a popular place to study, work on group projects, or hang out and watch TV.
Alvarez Student Union Fourth Floor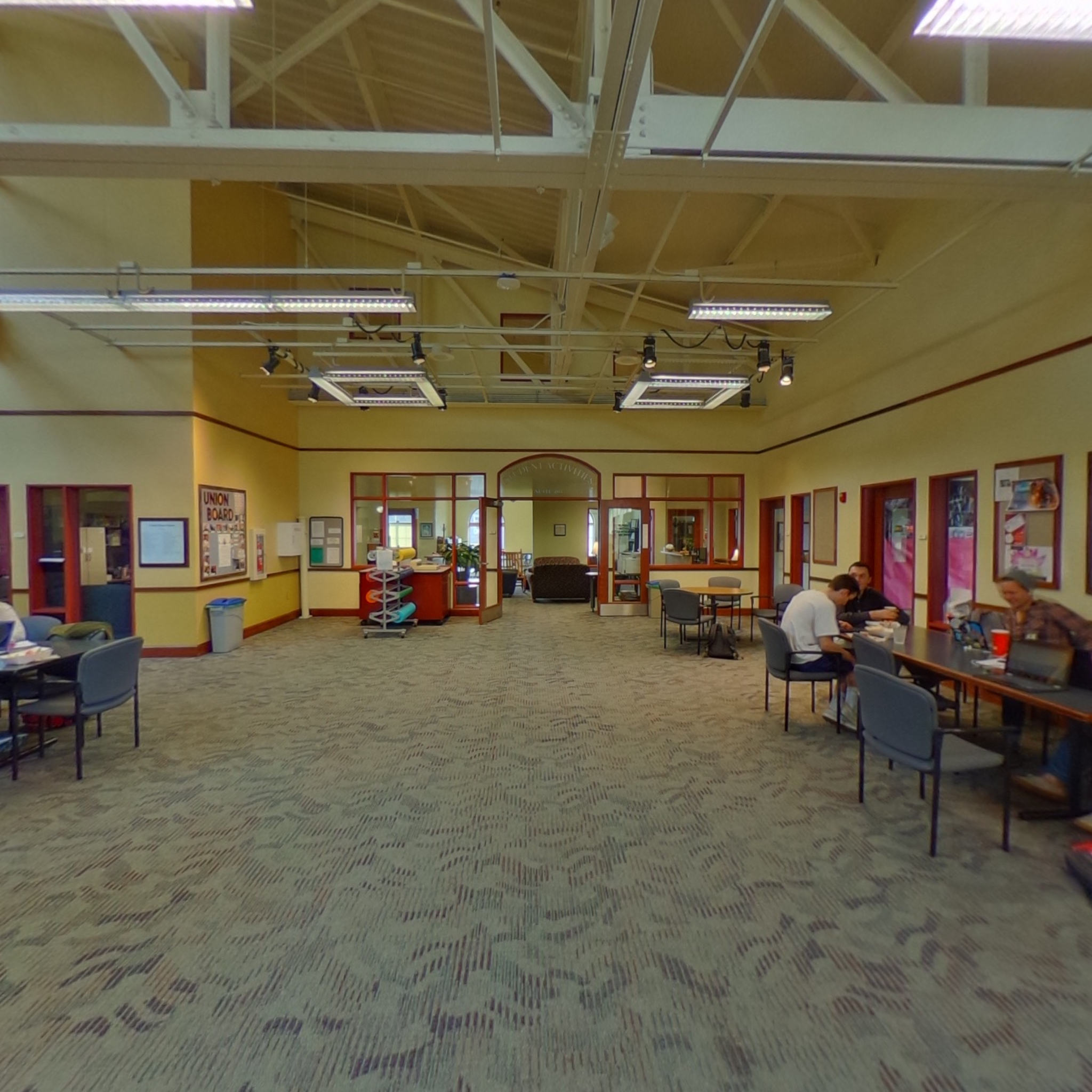 Union Atrium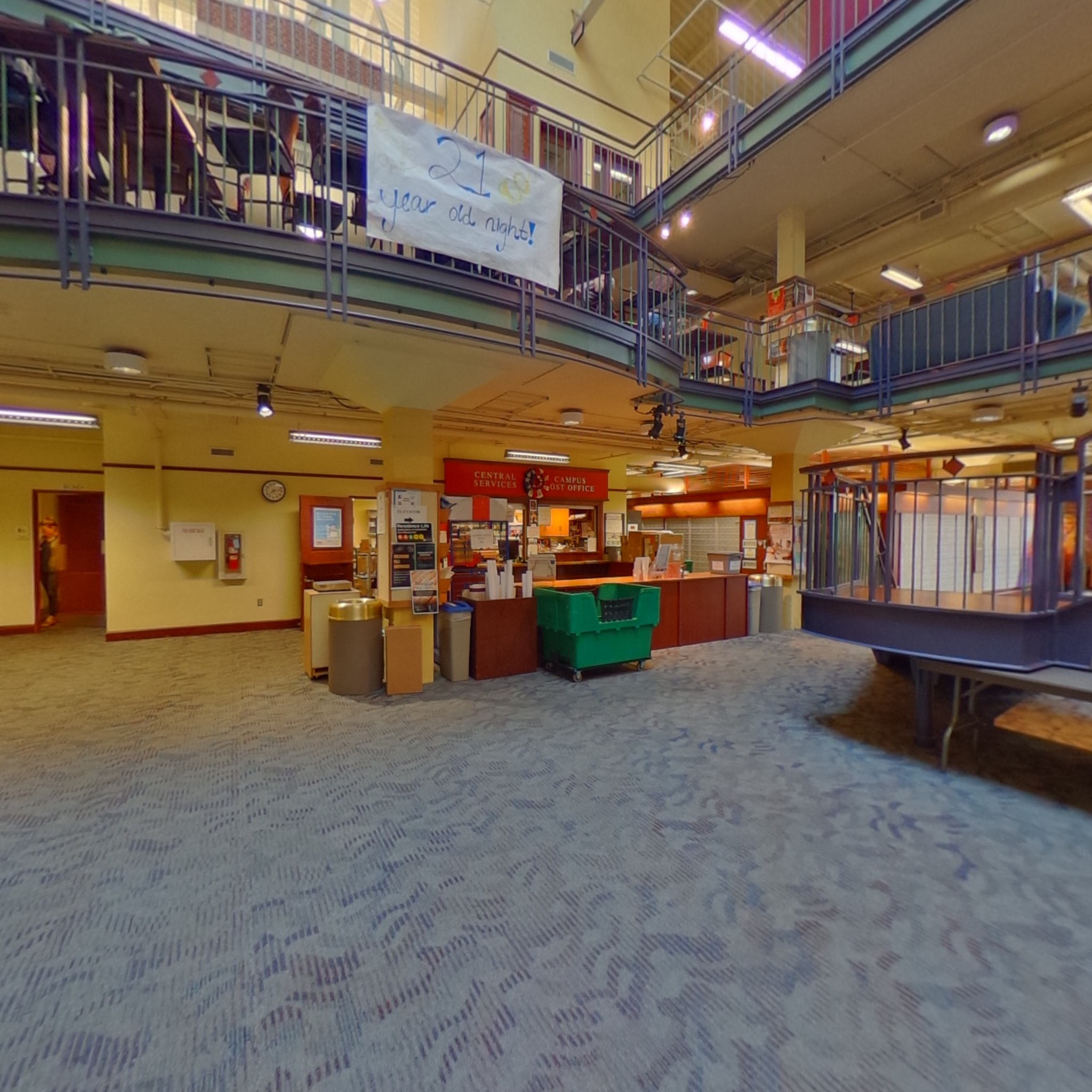 The atrium level is a great spot for open events, and also houses our campus post office, the Center for Career Development, and the Multicultural Center. From this level you can access Duke Family Performance Hall, which houses large ceremonies and performances like the first-year Honor Code Signing Ceremony, Dance Ensemble, and major speakers.
Center for Diversity and Inclusion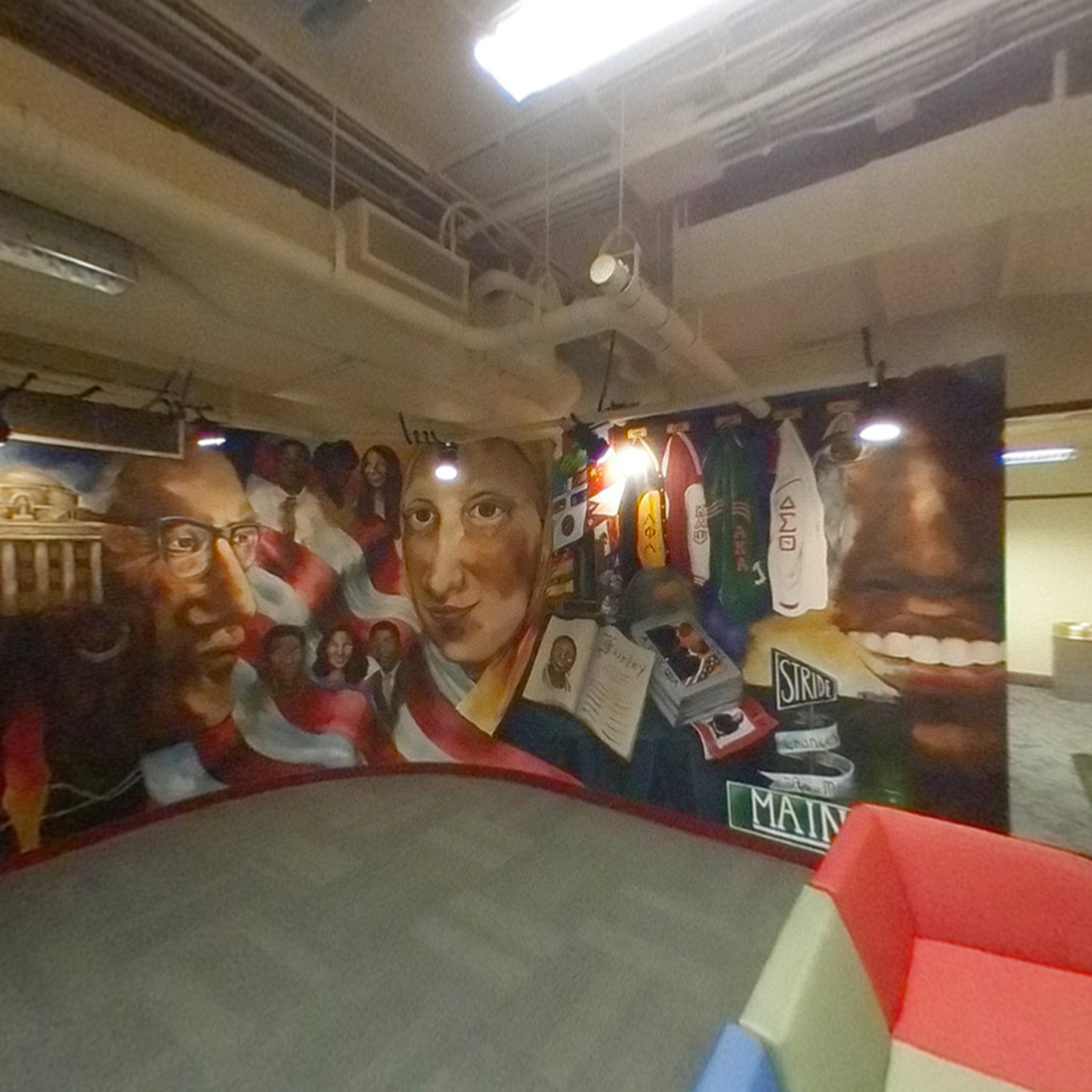 The Center for Diversity and Inclusion is a smaller but more visible and centralized facility located on the second floor of the Alvarez College Union, between the Union Station convenience store and the Duke Family Performance Hall. It is primarily an administrative space for the assistant dean for Diversity and Inclusion and the college's four NPHC organizations: Alpha Kappa Alpha, Alpha Delta Theta, Alpha Phi Alpha, and Kappa Alpha. Davidson is adding a Latinx Fraternity and a Latinx Sorority in the Fall of 2018.
Guests are encouraged to learn more about the striking Chances Are mural, a tribute to Davidson College's racial integration history and the many doors of opportunity and access that were opened as a result.
Center for Career Development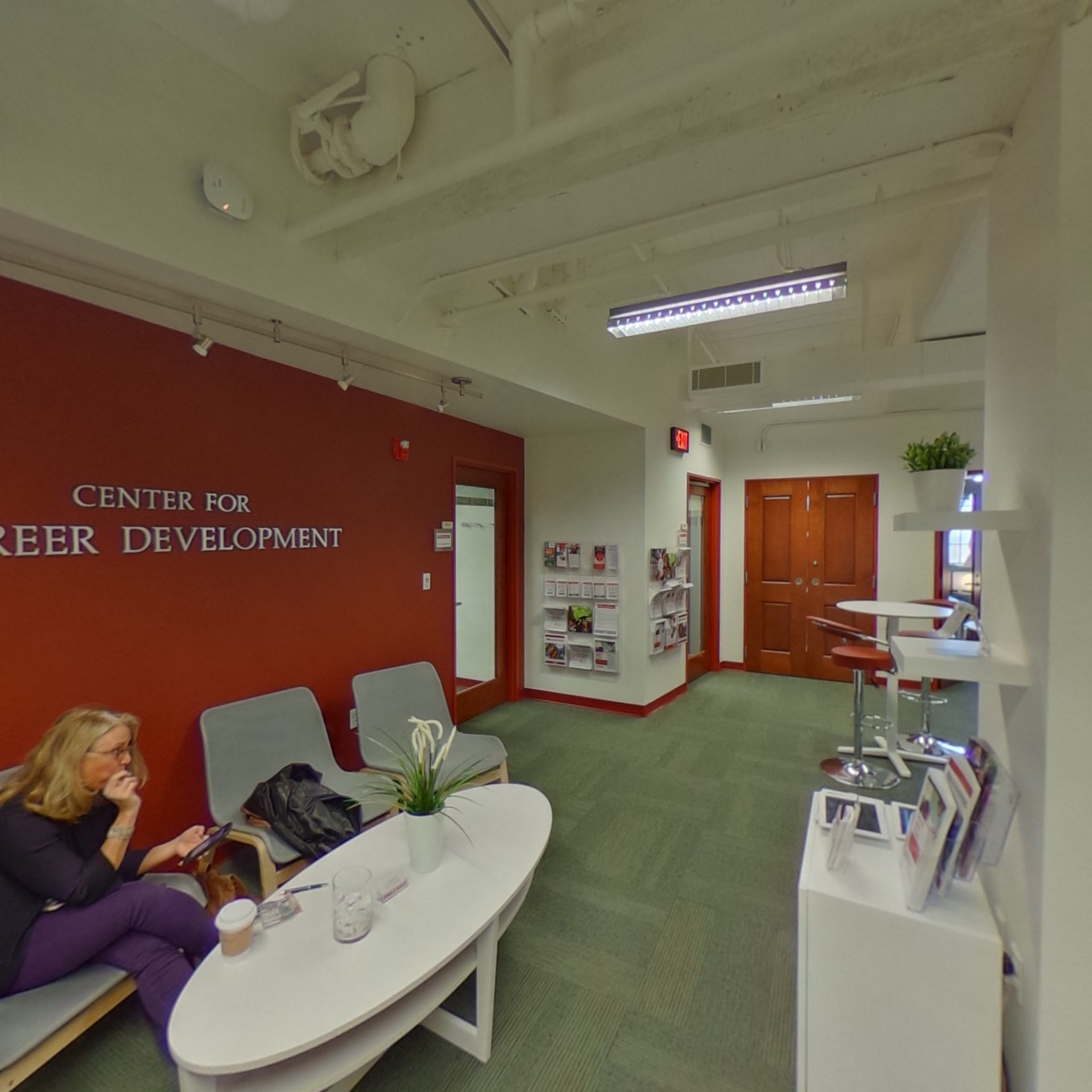 With the help of the Center for Career Development, staff members will work with students from day one of their first year to post-graduation. There are walk-in hours for students to get advice or have resumes and/or cover letters looked at. Students can also sign up for a one-on-one appointment. The CCD provides services, programs, and opportunities to help students explore how their academic and personal interests relate to future professional opportunities; entrance into employment, internships, fellowships and graduate school programs; and success through on- and off-campus interview opportunities, employer information sessions, and job and graduate school fairs.
The CCD also has funding grants available for students who pursue unpaid internships over the summer, allowing students to take full advantage of any opportunity offered to them. No matter what students want to pursue after Davidson, the CCD will work with them to make sure they are on track for success after graduation.
Check out our Graduating Class Profiles!
Historic Quadrangle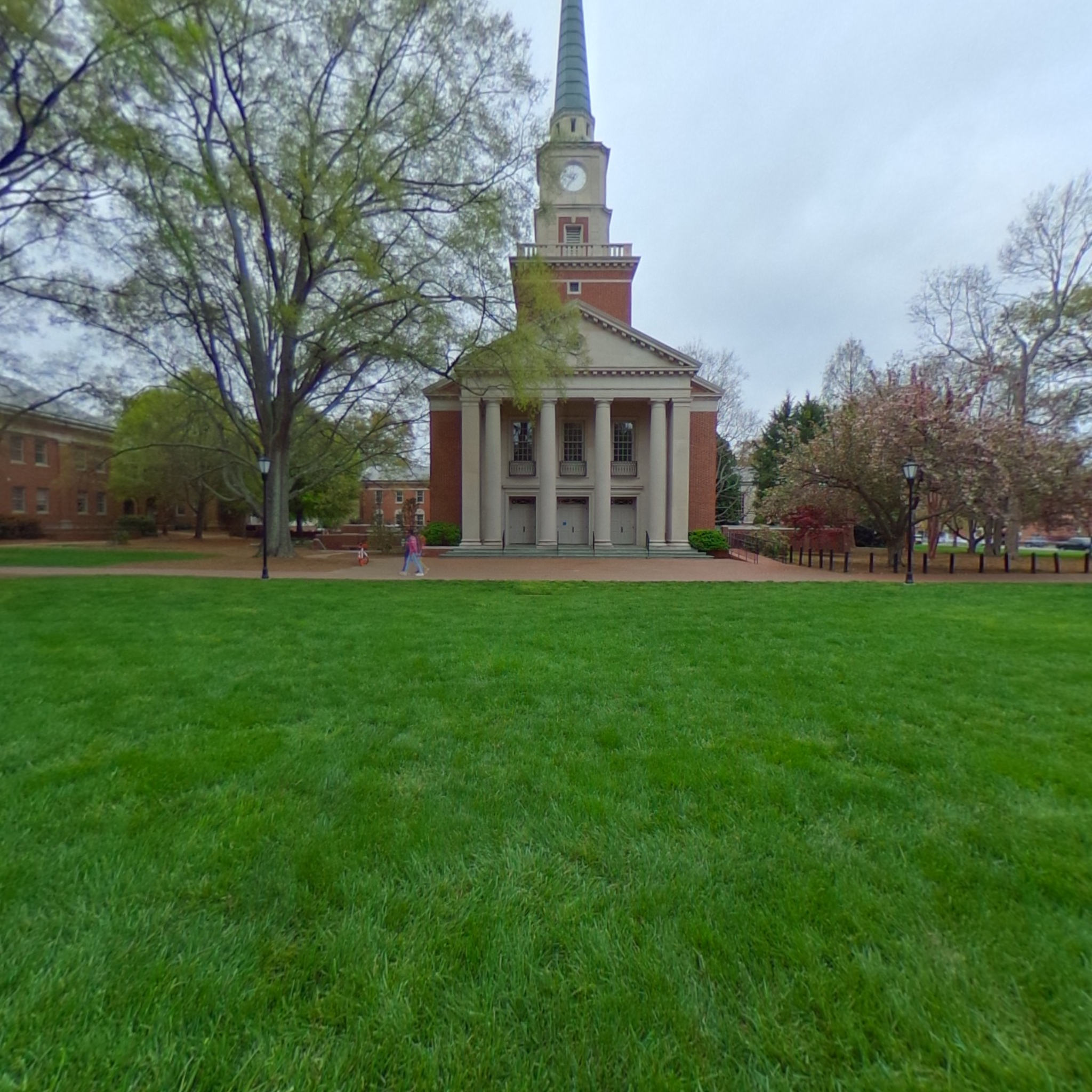 Welcome to the Historic Quadrangle of Campus. Here you will see two of our oldest buildings, Eumenean and Philanthropic Halls. These were the original social arenas on campus. Davidson was originally founded as an all-male agrarian college: men worked the fields in the morning, attended class in the afternoon, and retired to these social halls for conversation and debate in the evenings.
Eu Hall now is home to the Vann Center for Ethics. The Center is primarily known for its Ethics Forum series that are open to all students and the public, and addresses a wide range of practical ethical issues and challenges.
Phi Hall is home to the Chidsey Center for Leadership Development which offers several leadership programs, workshops, lectures, retreats, and leadership development resources for students.
Check out some of our other Davidson traditions!
Lingle Chapel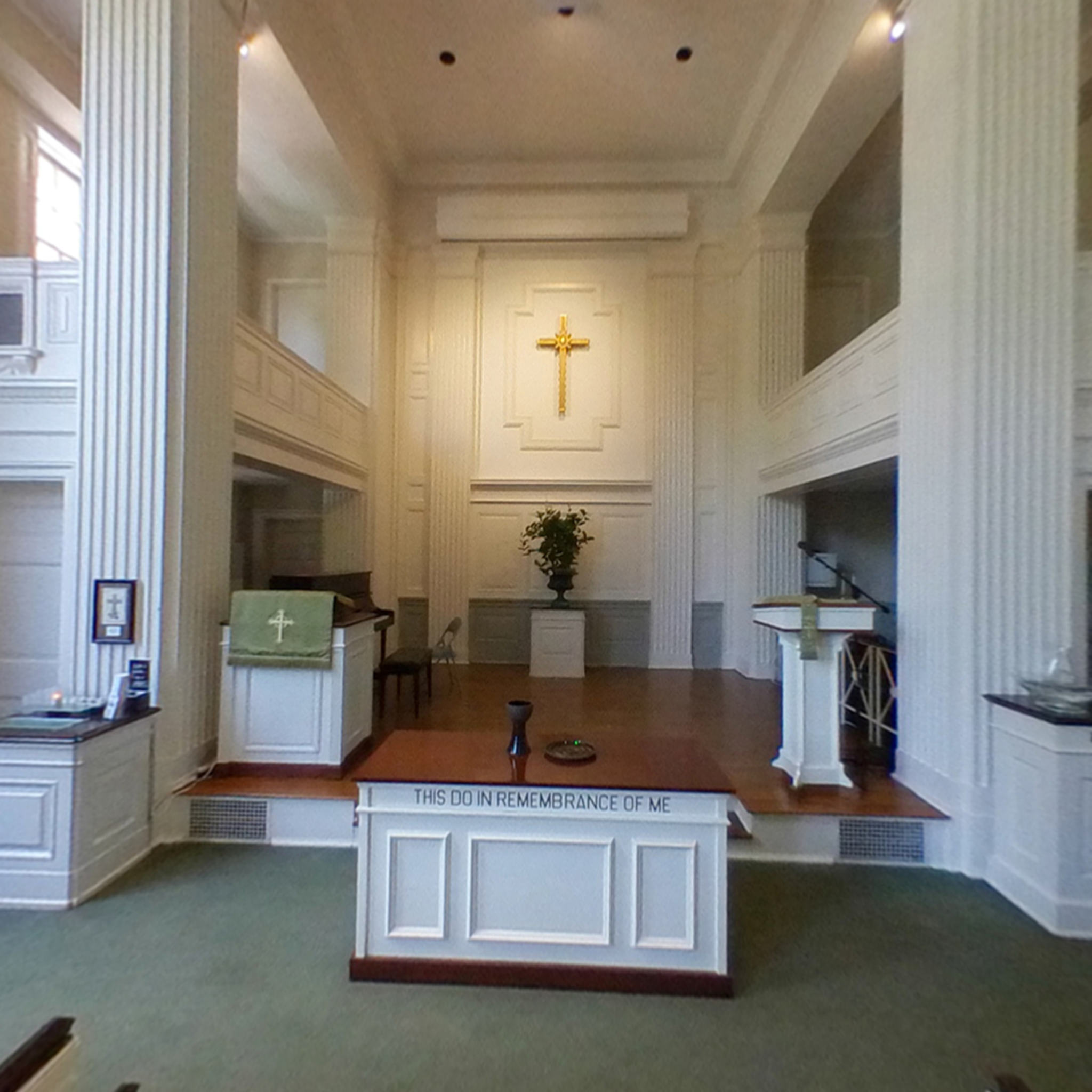 This is Davidson College Presbyterian Church, commonly referred to as DCPC. Davidson was founded by the Presbyterian Church and is still related to the Presbyterian Church (PCUSA) today, citing the Reformed Tradition. This means that the college believes that God is not defined by one religion, creed, or belief system. The college supports students and student groups of all faith traditions and also those of no particular tradition.
Religious life on campus is truly what you make of it. Students can be involved as much or as little as they want– there are weekly services on or near campus, and the college is happy to find transportation if there is a service you want to go to that is not within walking distance. A number of student organizations exist, including a Jewish Hillel Organization, the Muslim Student Association, Young Life, and other religious or interfaith groups.
We also have 4 chaplains on staff– Presbyterian, Catholic, Jewish, and Buddhist! Their offices are located in the top floor of the Union, making them accessible for any student to talk about any issue, regardless of their personal religious affiliation.
Lake Campus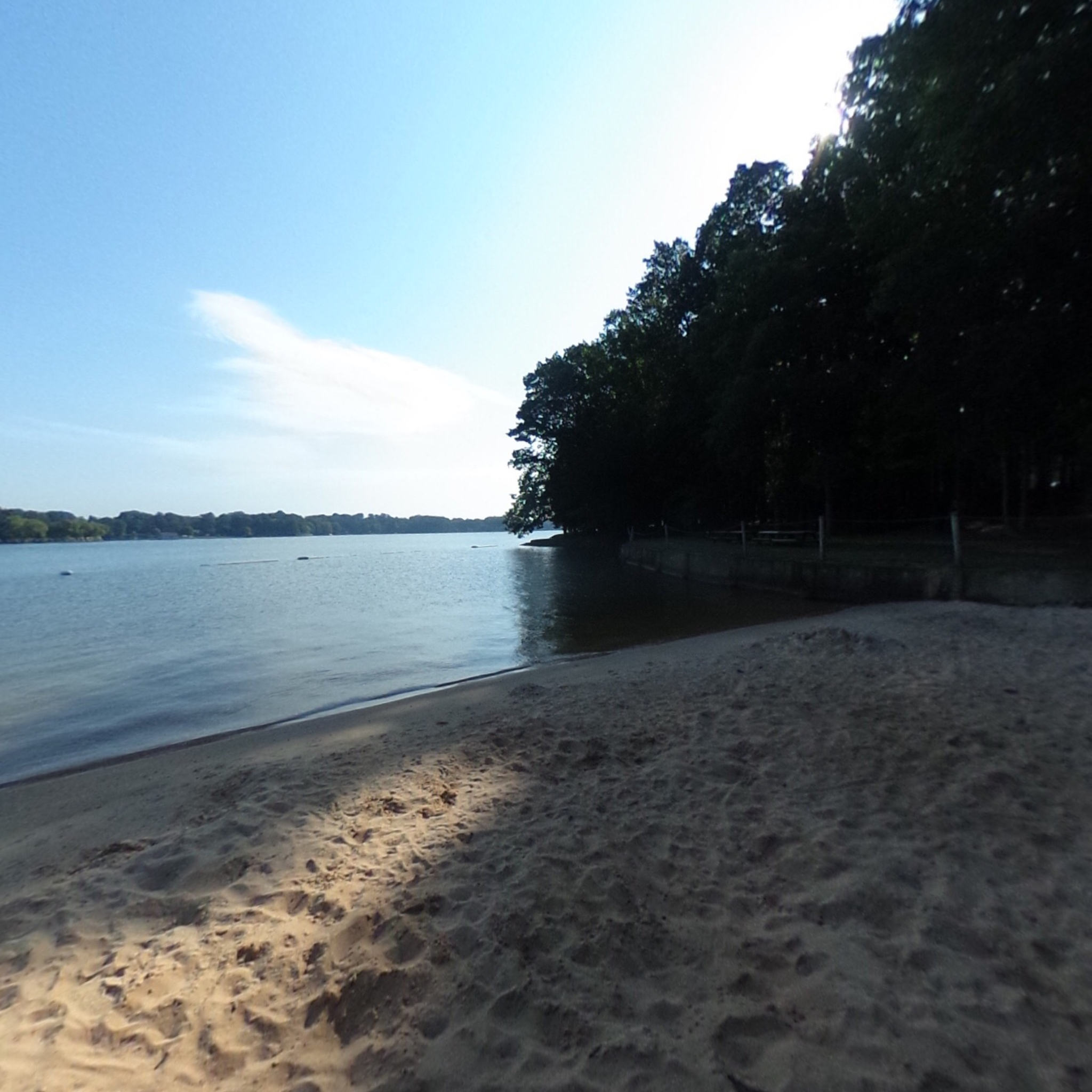 Davidson College Lake Campus is located a short seven miles from campus, and spans 110 acres of gorgeous Lake Norman. Here students will find a waterfront beach and swim area, sand volleyball courts, picnic areas, wet and dry boat slips, a boat ramp, as well as open green spaces!
Nothing beats a relaxing visit to Lake Campus on a hot sunny day!